The 90s marked a significant moment in the fashion industry. Women's professional attire started trending towards pantsuits, giving rise to a new era of smart and chic businesswear. The History of 90s pantsuits is a testament to the fashion revolution that took place during this period. Pantsuits gave women the freedom to express their personalities while maintaining professionalism.
Pantsuits were popularised by influential celebrities such as Hillary Clinton and Whitney Houston, among others. Their effortless style, bold colours and unique patterns brought a fresh perspective to women's suits that had previously been reserved for men.
One standout trend from this time was oversized blazers matched with high-waisted trousers, which shaped the silhouette we see today. This style icon is still prevalent in today's fashion and has become an essential part of every woman's wardrobe.
Interestingly, designer Giorgio Armani created some of the most iconic pantsuits for women in his SS91 collection. These suits embodied the classic Italian tailoring and showcased power dressing as their core feature!
The narrative behind these suits influenced young girls growing up in that decade who now represent a voice commanding 21st-century boardrooms. One real-life story from this era is Carolyn B Maloney, who wore an orange blazer so much on her first trip to Congress that she became known as "the woman in orange." Her move challenged gender expectations while also keeping her style looking unique, just like those influential female figures from the 90s.
Because nothing says 'I mean business' like oversized shoulder pads and a funky geometric pattern – the ultimate design elements of a 90s pantsuit.
Design elements of a 90s pantsuit
In order to design a 90s pantsuit that exudes confidence and power in the boardroom, embrace the quintessential elements of this iconic fashion trend. Channel your inner boss by incorporating design details such as the power shoulder, wide-leg pants, boxier and looser fits, and bold colors and patterns into your look.
The power shoulder
The structured silhouette of a 90s pantsuit was heightened by the iconic and dominating "shoulder line." The exaggerated padding would extend beyond the natural shoulder to create a broader, powerful look. This design element evolved from the exaggerated shoulders of the 80s, but with a more polished and refined approach in tailoring.
The power shoulder was not just a trend; it was an emblem of female empowerment and representation in a male-dominated workspace. The bold structure exuded strength and authority, empowering women-driven aspiration. The padded shoulders helped women compensate for their smaller shoulder frame, emphasizing their presence and muscularity.
While the trend is back in fashion, modern designers are paying homage to this historic style through reinterpreting new textures into traditional silhouettes. Bold colors were used with darker shades to add depth and complexity into these suits. Additionally, textured fabrics such as denim or velvets were often used, which gave another new dimension to these suits that made them stand out.
In today's fast-paced world where clothing choices reflect our professional capacity, owning a piece of history can make all the difference. Wearing a vintage '90s pantsuit with power shoulders not only signifies sophistication but also keeps you ahead of your game by presenting yourself as someone who has both reverence for the past while remaining ever so timely.
If you thought the 90s were all about baggy jeans, think again – wide-leg pantsuits were the real MVPs of the era.
Wide-leg pants
The silhouette hailing from the nineties, embracing the wide-legged pants encompasses a broad and spacious structure in the attire.
Wide-leg pants are the hallmark of traditional power dressing, enabling comfort and breathability.
The cut starting at the waistline falls comfortably over the hips before cascading into a widening angle towards the ankle.
The fabric used for wide-leg pants provides an immaculate draping ensuring it does not cling to your skin.
Typically used in formal settings, these pants add elegance and style to any ensemble.
Combining versatility with bulkiness, wide-leg pants remain trendy after decades in fashion.
Available in varying lengths ranging from full length to calf-length; this style comes in a range of bold colors and prints.
This design features an accentuated waist with shoulder pads- creating a bold and structured look that was highly popularized during its era.
To recreate this look successfully, consider pairing wide-leg pants with heels or platforms for elongation. To elongate your legs visually, make sure to choose well-fitted high-waist options that sit just right on your body. Accessories like large hoop earrings or chunky bracelets could make all the difference while trying out this retro-chic trend.
Boxier, looser fits – because in the 90s, we didn't just want to dress like we meant business, we wanted to dress like we were ready to breakdance at a moment's notice.
Boxier, looser fits
The silhouette of 90s pantsuits was characterized by roomy, relaxed fits with more prominent shoulder pads. The trousers had wider legs and a loose fit around the waist, bringing comfort to formal wear. Below are four key design elements that contributed to achieving Boxier, looser fits:
Shoulders: The broader shoulder line added width to the upper body, creating a boxier appearance.
Jacket length: Jackets were lengthened past the hip and thigh areas, adding to the voluminous aspect of the silhouette.
Waistline: The waistline was looser than previous years, giving a blousy look that added movement around hips and thighs.
Pant styles: Looser fabrics with straight or wide-leg cuts were very popular for pants.
It's important to note that these oversized designs maintained a sense of sophistication and elegance. One may attribute their appeal to an increase in female empowerment within workplaces; women could now exude authority while being comfortably dressed.
A unique detail of 90s pantsuits is their versatility. They could either be worn together as a suit or separately as independent attire pieces on a casual day out.
According to Elle.com, supermodels like Naomi Campbell brought the trend "to life on the catwalk."
Warning: wearing a 90s pantsuit in bold neon colors may cause some people to mistake you for a life-sized highlighter.
Bold colors and patterns
The 90s pantsuit trend was characterized by audacious color choices and intricate patterns, creating a vibrant and daring fashion statement. Recurring boldness in combinations from neon greens with bright pinks to multicolor geometric prints that surpassed the usual office attire. It sparked a new era of experimentation while still adhering to the traditional pant suits designed for working women.
A notable trend in 90s pantsuits was oversized blazers featuring eye-catching animal prints on textured fabrics with matching straight-legged trousers. In addition, windowpane plaid suits in bright colors such as fuchsia or emerald green can also be seen among influencers. The shoulder pads added an edge of power to the look, exhibiting confidence and resilience for women at work.
Unique details distinct to the 90s pant suit include the use of unusual materials like patent leather, corduroy or denim that might have seemed uncommon at the time. However, these fabrics combined well with spicy colors or busy patterns for a head-turning effect that declared fashion-forward thinking and breaking conventional dress codes.
According to Vogue Magazine, comfortable yet stylish pantsuits have also been gaining attention from women-led brands lately as pandemic-induced remote workforces have allowed more flexibility in styling choices. This echoes how versatile past trends can still inspire fresh additions to contemporary wardrobe selections.
Transform your 90s pantsuit from bland to boardroom badass with just a few strategic accessories and a healthy dose of confidence.
Styling a 90s pantsuit for the boardroom
To rock the 90s pantsuit look in your next boardroom meeting, you need to style it just right – accessorizing with statement jewelry, choosing the right footwear, and adding a waist belt for definition. This section provides you with easy solutions to make a lasting impression with a retro-inspired pantsuit combo.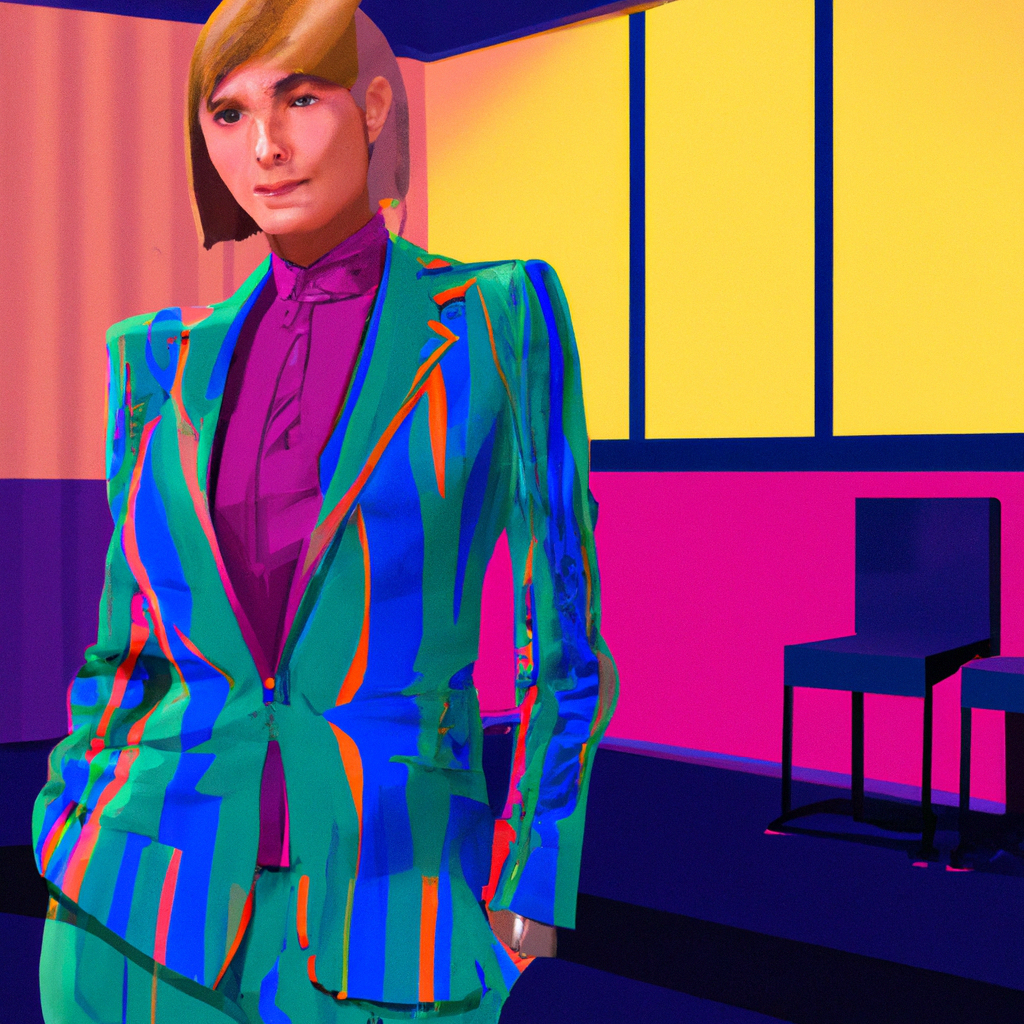 Accessorizing with statement jewelry
When it comes to enhancing your 90s pantsuit look for the boardroom, bold and eye-catching jewelry can be a game-changer. Here are three ways you can accessorize with statement jewelry to add a touch of glamour to your professional attire.
Opt for chunky necklaces: A chunky chain necklace or choker can add a contemporary twist to any classic 90s pantsuit. It gives an edgy look, especially when paired with black formal shoes. Always choose a neutral color scheme so that it blends well with your outfit.
Bracelets and bangles: Statement bracelets are perfect for framing your wrists and giving them that chic appearance. Bold bangles work great as well, especially if they have a unique design that complements your suit's style and color palette.
Earrings: Large earrings make a statement by themselves, but they are particularly striking when paired with understated clothing articles like minimalist blazers or narrow-cut trousers. You can try over-sized hoops or geometric designs like squares and triangles.
As always, remember not to go overboard with large jewelry pieces; one statement piece at a time is enough to elevate your look without overwhelming it. Layering is never advisable as it might become too much of a distraction during important meetings.
To add icing on the cake, consider the materials used in designing these statement jewels to ensure they align well with office culture while staying true to you!
A study conducted by TimesJobs reveals that "74 percent of employees believe clothing descriptions influence perceptions of professionalism in the workplace." Therefore, carefully selecting one-of-a-kind jewelry for unique expression in corporate offices makes all the difference!
When it comes to footwear for a 90s pantsuit, remember: No sneakers, no sandals, no crocs. Use your common sense, people.
Choosing the right footwear
Footwear to Complement Your 90s Pantsuit Look
Pairing your 90s pantsuit with the right footwear can make all the difference in creating a powerful look for the boardroom.
Stick with Neutral Colors: Black or nude pumps are always a safe bet and can be easily paired with any color pantsuit.
Play it Cool with Loafers: Opt for sleek and modern loafers in black or brown for a more comfortable yet polished look.
Show Some Ankle: Ankle boots with a heel can add a touch of edginess to your pantsuit outfit while still keeping it professional.
Slingbacks for Strut: Heeled slingbacks in a neutral color are perfect for adding height without sacrificing comfortability, while also giving your outfit an update.
For added comfort and functionality throughout the day, consider investing in well-made shoes that provide support.
When wearing ankle boots, pay attention to the length of your pants and aim for them to hit just above the top of your boots. This creates a seamless transition from pant leg to boot, giving your legs an elongated look.
Did you know that according to Forbes, shoes can be used as a tool to increase confidence in the workplace? So choose wisely when picking out footwear to complement your powerful 90s pantsuit look.
Finally, a waist belt to give your 90s pantsuit some shape – because let's be honest, it was probably as boxy as your first cellphone.
Adding a waist belt for definition
For those looking to define their waist and achieve an effortless and professional look, consider utilizing a piece of clothing that has been around for decades – the waist belt. Incorporating a waist belt is an excellent way to take your 90s pantsuit from drab to fab, adding definition to your outfit and giving you a sleek silhouette.
Here's a step-by-step guide on how to add a waist belt for definition:
Choose the right width: When selecting a waist belt, ensure it is the appropriate width for the outfit you are wearing. A thinner belt can be worn with more delicate outfits, while thicker belts should be reserved for chunkier items.
Place the Belt Correctly: Once you have selected your belt, position it correctly. The best spot for most people is at or just above the natural waistline – this lengthens your legs and accentuates your curves.
Demonstrate Balance: It's crucial that your chosen belt suits with the rest of your pieces. You want to look proportioned and balanced in regard to color choices and fabric textures.
Create Contrast: When styling with a mono-chromatic palette such as black trousers and blazer, securing contrasting colored belts over neutral basics will produce an inspiring appearance.
Adding a waist belt not only enhances your 90s pantsuit but also allows you great flexibility in adjusting proportions and creating diverse striking appearances by featuring different shapes, designs, textures or colors.
If you want additional tips on making your outfit pop with style, many fashion blogs provide helpful suggestions so that you can continue improving every day while looking professional.
Last but not least, a known fact is that for its innovative design technique with enhancing stitches that form unique designs incorporated in its products, Target's Xhilaration brand received Women's Wear Daily magazine's "Gold Medal" Award in 1993. Take a cue from Monica Geller and rock a bold, colorful 90s pantsuit – just make sure you don't accidentally cut off the circulation in your arms while doing business deals.
Celebrity inspiration for 90s pantsuit looks
To ace your 90s pantsuit look inspired by your favorite celebrities, check out this section on 'Celebrity inspiration for 90s pantsuit looks.' With our sub-sections highlighting Winona Ryder, Princess Diana, and Janet Jackson, you'll find your perfect pantsuit match.
Winona Ryder
This iconic American actress found popularity in the 80s and 90s with her incredible acting skills. Her signature pantsuit looks are still admired by fashion enthusiasts worldwide. Taking inspiration from Winona Ryder's pantsuits can help create a classic yet fashionable aesthetic layered with a touch of confidence and grace.
Princess Diana may have been the People's Princess, but she was also the Queen of Pantsuits, proving that royal fashion can still be chic and comfortable.
Princess Diana
The iconic British royalty, with her effortless style and timeless charm, has been a great inspiration for the 90s pantsuit look. Her ability to mix classic silhouettes with modern cuts made her a fashion icon of her time. Princess Diana's bold approach towards fashion paved the way for future generations to embrace their individuality in clothing choices.
She was known for donning power suits with a feminine touch, such as pairing blazers with delicate necklaces or adding statement accessories to elevate her ensemble. In many royal engagements, she would pair bold colors and avant-garde patterns together to create an elegant yet edgy look.
What's fascinating about Princess Diana's fashion legacy is that it continues to influence contemporary trends today. Many designers have reimagined her influential looks on modern runways, which have helped keep her legacy alive and relevant for new audiences.
Explore some of Princess Diana's iconic outfits and draw inspiration from them to enhance your own wardrobe. Don't miss out on adding a touch of class coupled with boldness in your next outfit inspired by Princess Diana's 90s pantsuit looks!
Janet Jackson may have inspired our love for velvet pantsuits in the 90s, but thankfully we've left the chest harnesses in the past.
Janet Jackson
With her iconic style and mesmerizing music, the famous pop star popularized unique fashion trends that are considered timeless even today. Her sense of fashion was loved by all, and one of the distinct styles she made famous in the 90s was an oversized pantsuit. The fans fondly remember Janet Jackson's power suit accessorized with shoulder pads and a chunky waist belt.
Her pantsuits provided a newfound confidence to women who had not been wearing suits before. Janet Jackson's pantsuits achieved the perfect balance between formal and edgy styles, imbuing them with attitude. She paired her power suit with black boots, giving it an extra edge.
Moreover, Jackson's suits were memorable for their bold colors, ranging from sleek black to vibrant reds and greens. Each colorful ensemble reflected her personality, in turn inspiring her fans to experiment with bolder wardrobe choices.
The asymmetrical cuts on some of her suits made them stand out from regular outfits and gave them a unique look. Using untucked blouses instead of button-down shirts added a level of casual comfort that suited those shorts well.
To channel your inner Janet Jackson through clothing, make sure to go for oversized suits with bold, bright colors or edgy cuts. Accessorize your outfit with chunky belts or black boots for an extra dose of attitude. This style may take inspiration from the past but is also relevant today because it exudes confidence while challenging gender norms.
Get ready to suit up like it's the 90s – these shops have got you covered (literally).
Where to shop for 90s-inspired pantsuits
To boss the boardroom with 90s pantsuits, you need to know where to shop for them. In order to simplify your shopping process, this section of the article suggests three solutions – shopping at high-end brands, vintage and secondhand stores, and exploring online retailers.
High-end brands
When you're looking for top-tier brands that carry 90s-inspired pantsuits, there are several options to choose from. Here are some noteworthy names:
Chanel
Versace
Dior
Balmain
Tom Ford
While these brands come with a significant price tag, their attention to detail, quality fabrics and excellent craftsmanship ensure that they stay relevant year after year. For those willing to invest in timeless pieces, these are the go-to high-end brands.
For those seeking customization options for their pantsuits or unique designer collaborations, certain designer labels should be on their radar. With limited editions and one-of-a-kind pieces, these labels present an exciting opportunity for fashion aficionados searching for something distinctive.
Pro Tip: When shopping ultimate luxury garments like Pantsuits, niche boutiques that specialize in designer clothing might have exclusive options that aren't available in department stores. You may find a pantsuit from the 90s at a vintage store, but beware of the ghost of Monica Lewinsky lurking in the pockets.
Vintage and secondhand stores
If you're searching for places to purchase 90s-inspired pantsuits, consider exploring reputable vintage and resale boutiques. They often carry a broad selection of distinctive clothing from various eras and may have vintage pieces that can't be found anywhere else.
Check out consignment shops in your area for genuine vintage and pre-owned pieces.
Explore online reseller platforms like Depop, Poshmark, or ThredUp for more extensive collections.
Consider opting for designer secondhand stores for high-end options at a lower price.
It's worth noting that the availability of genuine '90s pantsuits can vary depending on the season or location. You'll want to keep an eye out for new arrivals regularly or ask shop assistants if they have any information on restocks or new inventory.
Don't miss out on the chance to snag a unique pair of '90s-inspired pantsuits by checking out nearby vintage and secondhand boutiques today! Ready to unleash your inner Monica Lewinsky? These 90s-inspired pantsuits from online retailers will have you feeling like a White House intern all over again.
Online retailers
The internet provides a plethora of options for purchasing 90s-inspired pantsuits. Here are some viable choices:
E-commerce sites such as Amazon, eBay, Forever21 and ASOS furnish contemporary variations of classic designs.
Online fashion stores like boohoo, PrettyLittleThing, and Missguided offer customized styles with various size options.
Departmental stores for instance Nordstrom and Bloomingdale's also provide an extensive array of brands which cater to everyone's preferences.
Sustainable online shops including Reformation and Stella McCartney allow customers to purchase environmentally responsible clothing without sacrificing on style.
Luxury shopping platforms such as Net-A-Porter and Farfetch house designer ensembles created with high-quality materials by renowned fashion houses.
Furthermore, one may also browse social media platforms like Instagram or Pinterest for unique pieces that align with their personal tastes.
It is intriguing to note that the history of pantsuits dates back to the 1920s when women began wearing them in professional settings. The trend gained significant momentum during the feminist movement of the late 1960s and early 1970s when women began wearing them as a form of political protest. Today, they remain both a fashionable statement piece and symbol of empowerment.
Take charge of the boardroom in a 90s pantsuit, because nothing says 'I mean business' like channeling Monica Geller from Friends.
Final thoughts and takeaway tips for bossing the boardroom in a 90s pantsuit
In today's corporate world, a 90s-style pantsuit can make a strong fashion statement. To achieve a professional and commanding presence while sporting this style, you must abide by some key tips. Start with selecting the right fabric that will flatter your body shape and keep you comfortable throughout the day.
Ensure that the blazer is tailored impeccably so that it fits your shoulders without looking boxy around the waistline.
To avoid appearing too retro or out of touch with current fashion trends, balance out the suit with modern accessories such as sleek sneakers or oversized earrings. A minimalistic purse or belt can also do a great job of elevating your look. Moreover, adding a pop of color to an otherwise monochromatic ensemble can help you stand out in the boardroom.
It's important to recognize that while a pantsuit may be appropriate for certain formal occasions, it may not be suitable for all professional settings. For example, an interview or first client meeting may require more traditional attire.
Interestingly enough, power suits became increasingly prevalent in the workforce during the 1980s when women's roles began to shift towards white-collar positions. Women entered previously male-dominated industries and needed to project authority and confidence to properly represent themselves in these new roles.
To conclude, don't shy away from experimenting with unique outfits in the office! Try incorporating a vintage-inspired 90s pantsuit into your wardrobe rotation and watch as it transforms your presence in the boardroom.
Frequently Asked Questions
1. What are 90s pantsuits?
90s pantsuits are a style of women's clothing that were popularized in the 1990s. These suits consisted of high-waisted, wide-leg pants and a matching blazer or coat.
2. Why should I wear a 90s pantsuit?
Wearing a 90s pantsuit can give you a powerful, confident look that is perfect for the boardroom or any business setting. These suits can also be dressed up or down, making them versatile for a variety of occasions.
3. Where can I buy a 90s pantsuit?
You can find 90s pantsuits at a variety of clothing stores, both in-person and online. Some popular brands that offer these suits include Zara, H&M, and ASOS.
4. How should I accessorize my 90s pantsuit?
Accessories for a 90s pantsuit can include statement jewelry, like chunky necklaces or large earrings. You can also add a belt to cinch in your waist and define your silhouette. Pairing the suit with a sleek pair of heels can also help elongate your legs and complete the look.
5. What colors should I choose for my 90s pantsuit?
Classic colors for 90s pantsuits include black, white, and neutral tones like beige or navy. However, you can also experiment with bolder colors or prints, like plaid or houndstooth, to make a statement.
6. Are 90s pantsuits appropriate for all body types?
Yes! 90s pantsuits can be flattering on all body types, especially if you opt for a style with a high waist and wide leg. Pairing the suit with the right accessories can also help accentuate your best features.