To get you up to speed with the 90s baggy overalls trend that has made a comeback today, we bring you the lowdown on the history and origin of baggy overalls trend. Then we explore the popularity and acceptance of baggy overalls trend in the 90s and wrap it up with some reasons behind the resurgence of this fashion trend in current times.
History and Origin of Baggy Overalls Trend
The evolution and rise of Baggy Overalls Trend can be traced back to the 90s. It symbolized freedom, comfort and rebellion, and its popularity jumped from workwear to streetwear. The original utility jumpers were constraining but, fashion overalls with baggy, oversized fits turned heads everywhere.
The trend caught on quickly and it became a staple in everyday wear across all genders, ages and social classes. With overlocked edges, adjustable straps, multiple pockets and durable machine washable materials like denim, the 90s baggy overalls trend has been reintroduced time and time again through fashion cycles!
Interestingly, the design was inspired by the railroad workers in the late 1800s who wore denim jumpsuits to protect themselves from hot steam when manning engines. Its popularity boomed during World War II where women took up factory jobs and needed comfortable yet practical clothing to work in.
Little do people know that Mario Suez created his version of overalls in World War I as he found an alternative uniform for working men. With so much competition at that time for military contracts to manufacture clothing etc., he managed to convince the U.S army that overalls were better suited than trousers!
Baggy overalls were so popular in the 90s, even MC Hammer had to step up his game.
Popularity and Acceptance of Baggy Overalls Trend in the 90s
During the 90s, baggy overalls were the epitome of fashion. They were considered a mainstream trend and were widely accepted by both genders. The fashion was popularized by celebrities and musicians, depicting a carefree attitude towards dressing up without being labeled as sloppy or untidy. Baggy overalls accentuated style while also allowing freedom of movement.
Baggy overalls were practical, comfortable and versatile. They could be dressed up or down with ease, providing an effortless and casual look that appealed to many people across all ages. They were available in different colors, materials and styles providing ample choices for people to pick from.
A unique aspect of the baggy overalls trend was the way it allowed people to express their individuality through customized designs such as embroideries, paintbrush strokes and pins showcasing personalized statements or affiliations.
According to "The Atlantic", baggy overalls became so prevalent that companies like Tommy Hilfiger started producing them along with other brands that catered to different segments of society.
Overall, the popularity and acceptance of baggy overalls in the 90s can be attributed to their practicality coupled with versatility. The fashion statement allowed both men and women to express themselves without following strict dress codes or social norms.
Why go to the gym when you can just wear baggy overalls and pretend you're hiding a six-pack?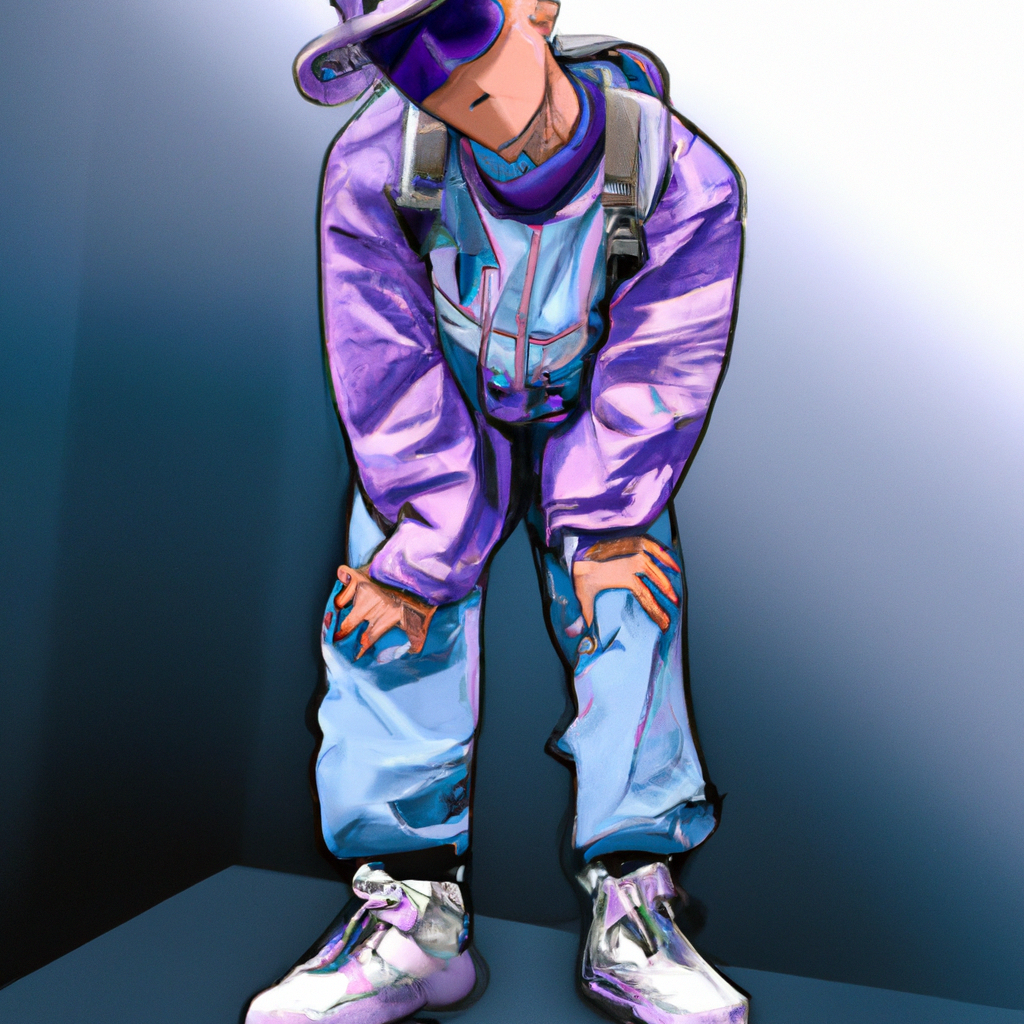 Reasons Behind the Resurgence of Baggy Overalls Today
In recent years, Baggy Overalls have made a comeback in fashion. The resurgence of this 90s trend has multiple reasons behind it. One of the main factors is nostalgia, as people want to relive the old days and their happy memories. Additionally, sustainable fashion has encouraged consumers to purchase clothing items that are versatile and durable.
Furthermore, street style influencers have played a significant role in bringing back this trend. They introduce fresh ways of styling and incorporating baggy overalls into modern-day fashion. Moreover, it's an easy-to-wear garment suitable for all occasions from casual outings to parties.
Interestingly, many top designers have incorporated overalls in their runway collections, which indicates that they're here to stay for a while. For instance, brands like Alexander McQueen and Marc Jacobs have featured overalls in their fashion shows.
To keep up with the latest trends and make a statement, don't miss out on Baggy Overalls. Incorporate them into your wardrobe today to achieve that effortless vintage look and create a unique style statement of your own.
Baggy overalls styles: because sometimes you just want to look like you're wearing a toddler's outfit.
Baggy Overalls Styles
To find the perfect baggy overalls style with classic denim, corduroy, printed or embellished designs, you need to explore the sub-sections of this section called Baggy Overalls Styles. Each one has its own unique approach to the popular 90s trend that has made a comeback in recent years.
Classic Denim Overalls
A Timeless One-piece: This style of overalls has stood the test of time and holds classic appeal. With its all-in-one convenience, these overalls have been a staple in fashion for decades.
Classic Denim Overalls are known for:
Functional pockets for practicality
Cinched elastic waistband for added comfort
Adjustable straps to accommodate various body shapes
Durable denim material for long-lasting wear
Versatile style that can be dressed up or down
An iconic look that never goes out of style
These overalls come in various shades of blue, black, and white, as well as different cuts and styles to fit your preferred look. The versatility makes it a popular choice among people looking to flaunt their personal fashion sense.
A friend once told me how she found a vintage pair of classic denim overalls at a thrift store while on vacation. She wore them throughout the trip, exploring new sights while feeling effortlessly stylish. It's amazing how a timeless piece can add so much value to our wardrobe and experiences.
Corduroy overalls: because nothing screams 'I'm ready for a 90s throwback' quite like a pair of baggy, retro-inspired dungarees.
Corduroy Overalls
Cord Overalls – Stylish and Comfortable Apparel
Cord overalls are a chic way to stay comfortable while still making a fashion statement. They're the perfect combination of style and functionality, suitable for any occasion.
Comfortable fit: Corduroy overalls are designed to give you a relaxed and cozy look that's easy to wear all day long.
Perfect for Fall: Made from sturdy corduroy material, these overalls keep you warm and snug on chilly autumn days.
Versatile styles: With many design options available, including wide-leg cuts, skinny fits, or cropped lengths, these overalls can be stylized in a variety of ways.
Get creative with corduroy overalls by pairing them with a simple white tee or turn it up a notch into a funky outfit.
Pro Tip: Accessorize your corduroy overalls with chunky boots or sneakers to complete your fashionable look.
Who needs a canvas when you can wear a work of art? Printed overalls: The perfect attire for those who like to paint the town red… or blue, or yellow, or green.
Printed Overalls
These trendy jumpsuits with a printed design are known as Patterned Overalls. Here are five points that will help you understand this style better:
Introduce color and pattern into your wardrobe by wearing patterned overalls.
Pair them with a simple top and sneakers for a casual daytime look.
For an evening out, add strappy heels and statement earrings to enhance the overall effect.
Achieve a chic urban look by teaming this style with chunky boots and a leather jacket.
Choose smaller prints for versatile wear, while large or bold patterns demand special attention.
To stand out from the crowd, consider adding some of these unique elements to your ensemble. Mix and match contrasting colors or go monochrome (only one color). Opt for an all-over print design rather than individual motifs. Also, choose fabrics such as silk or chiffon to upgrade your look.
If you're looking to try something new, here are some suggestions for how to incorporate Patterned Overalls into your outfits:
Try pairing them with other prints like stripes or polka dots.
Layer chunky cardigans or denim jackets on top for cooler weather.
Experiment with different shoe styles like strappy sandals or ankle boots.
Adding Patterned Overalls to your wardrobe is an excellent way to diversify your fashion choices while still keeping up with the latest trends!
Who needs jewelry when your overalls are already bedazzled? #EmbellishedOveralls
Embellished Overalls
Overalls with intricate details and embellishments are the latest craze in fashion this season. These visually interesting overalls add a unique pop of style and pattern to any outfit, making them versatile for both casual and dressy occasions. In this section, we will explore five points about these contemporary and eccentric Embroidered Overalls:
They come in a variety of patterns, from fun florals to subtle polka dots.
You can find them in different materials like denim, cotton or even velvet.
The embellishments could be pearls sewn onto the straps or beads threaded through lace patches.
Spaghetti straps or thick ones with buckle closures are popular among designers.
With the right accessories, you can transition from a daytime picnic to an evening soirée effortlessly.
If you want an extra twist on your overall game, try experimenting with some of the lesser-known design features when shopping. For example, look out for overalls adorned with laces highlighting certain parts of the outfit or those fitted with ruffles that flow down one side but not on the other. These little details contribute towards uniqueness in your style statement.
Many people have different stories of how they came upon such stylistic clothing articles, and mine is no different. I discovered my love for embroidered overalls during my college days while rummaging through vintage thrift stores. I saw a pair made from corduroy fabric that had intricate flower patterns stitched into it—the moment I tried it on; I knew it was meant to be mine.
Get ready to channel your inner farm-chic with these tips on incorporating baggy overalls into your wardrobe.
Incorporating Baggy Overalls Fashion in Your Closet
To incorporate baggy overalls fashion in your closet with recommended clothing items to pair with baggy overalls, appropriate footwear for baggy overalls, and accessories to enhance the look.
Recommended Clothing Items to Pair with Baggy Overalls
Baggy overalls are a versatile fashion statement, and selecting appropriate clothing items to pair with them is crucial. Understanding the right combinations will give you an effortless yet chic look.
Pairing your baggy overalls with turtlenecks enhances sophistication quotient. Select neutral colors for an even better outcome.
A Crop top is another excellent option to wear beneath baggy overalls. Pairing bold prints or bright colors with solid overalls can add dimension to your outfit.
Blousy shirts are the best picks when it comes to styling baggy overalls. Select oversized clothes in neutral tones for effortless overlap.
To add a unique twist, layer a jacket or sweater on top of the overall-strapped torso that lengthens and streamlines your appearance.
Create edginess by wearing chunky boots and statement jewelry pieces. To complete the look, tie a sleek bun or ponytail as it accentuates your neckline, granting an illusion of elongated height.
Pairing multiple layers like sweatshirts or jackets can create volume but choose wisely if you want to avoid appearing bulky.
Remember, dressing up appropriately and accentuating specific features according to personal preference elevates the baggy overall look drastically. Choose accessories depending on occasion, coordination and expressiveness criteria. Happy styling!
Pair your baggy overalls with some chunky sneakers to give off that 'I'm either about to do some serious DIY or go to a rave' vibe.
Appropriate Footwear for Baggy Overalls
One way to complement your baggy overalls is by wearing appropriate footwear. A must-have in your closet, versatile shoes will make you stand out without overshadowing the baggy overalls style.
Here are five suggestions for Appropriate Footwear for Baggy Overalls:
A pair of white sneaker for a casual look.
Combat boots for a grunge-inspired outfit.
Platform sandals to accentuate the silhouette and create an edgy look.
Ankle boots that offer both comfort and style.
Loafers or oxfords to play with contrasting shapes and draw attention to the details of the overalls.
Remember that material, color, and shape play crucial roles in deciding which footwear to wear with your overalls.
Finally, for those looking for something unique, consider layering colorful socks under your sandals or sneakers for a playful twist.
Pro Tip: Always choose footwear that complements your body type and personal taste while still highlighting the beauty of baggy overalls fashion.
Accessorizing baggy overalls? Just throw on a hat and some boots and call it a day, because who needs to make an effort when you can look effortlessly cool?
Accessories to Enhance the Look
To elevate the style of your baggy overalls, let's explore some accessories that can complement the look. Here are six ways you can enhance your outfit with accessories:
Pair your overalls with a statement belt to cinch in at the waist and accentuate your figure.
Add a pop of color by accessorizing with vibrant shoes or statement jewelry.
Incorporate a sleek shoulder bag or backpack that contrasts with the casualness of baggy overalls.
Don some trendy sunglasses to add flair and sophistication to your ensemble.
Add a watch or bracelet as a subtle yet elegant accessory.
A hat, such as a fedora or beanie, can provide unique accents while also serving as protection from the sun or cold weather.
In addition, matching your footwear style with the rest of your accessories can create an overall cohesive look. Lastly, remember that less is more when it comes to accessorizing. Choose pieces that will balance out the outfit without overwhelming it.
As you experiment with different accessory combinations, keep in mind that personalization plays a significant role in fashion. Tailor these accessory suggestions to align with your individual sense of style – express yourself through mixing and matching prints, textures, and colors.
When I was shopping for my first pair of overalls, I stumbled upon vintage shops and discovered gorgeous handcrafted essentials that complemented both the nostalgia and comfort of my outfit. It reminded me of how incorporating trendy accessories into our wardrobe is all about celebrating individuality while staying true to ourselves. Who needs a personal trainer when you can just wear baggy overalls to the gym and hide the extra holiday weight?
Baggy Overalls in Fitness and Workwear
To make your fitness regime more comfortable and workplace experiments more fun, baggy overalls have become the go-to option today. The comfort and style quotient offered by them is unparalleled. In this section, "Baggy Overalls in Fitness and Workwear," we will introduce you to the benefits of baggy overalls for fitness enthusiasts and as a striking workwear option. We will also give you tips on how to customize the overalls for a personalized look.
Comfortable and Fashionable Choices for Fitness Enthusiasts
Fitness Apparel for Comfort and Style
Fitness enthusiasts often prioritize style and comfort when it comes to workout gear. Baggy overalls have emerged as a unique option for those who want to make an effortless yet fashionable statement during exercise routines and beyond.
Baggy Overalls are versatile and provide maximum flexibility, enabling free movement.
The loose fit keeps one comfortable throughout the day, providing adequate airflow to the body in hot climates.
They're stylish enough to wear outside the gym, making them a popular wardrobe staple.
Overalls are designed with pockets that add convenience when carrying essential items like phones or wallets.
Unlike other gym outfits, baggy overalls may lead to less skin irritation due to friction between skin and clothing fabric.
While baggy overalls may not be suitable for all fitness activities requiring specific gear types, these outfits are worth exploring based on personal preference and activity type.
According to Men's Health Magazine, athletic models such as Tim Tebow have been seen sporting this trend beyond the gym.
Who needs a tailored suit when you can rock the fashion-forward look of baggy overalls, perfect for both the farm and the boardroom?
Baggy Overalls as a Fashionable Workwear Option
Baggy overalls have recently become a popular choice for both fitness and workwear. These stylish garments offer comfort, functionality, and are aesthetically pleasing. They are a practical alternative to traditional workwear attire as they provide ample room for movement and can be worn in multiple settings. Their versatility makes them an excellent choice for those looking to add some variety to their wardrobe.
In addition to their practicality and style, baggy overalls come in a variety of materials ranging from denim to cotton. This range of material options allows for individuals to select the best overall for their specific working environment or personal style preference.
A unique attribute of baggy overalls is that they offer a gender-neutral option when it comes to workwear. Traditional male and female uniforms can be restrictive and uncomfortable, whereas baggy overalls accommodate all body types with ease.
Don't miss out on the trend of incorporating these fashionable garments into your work wardrobe or workout routine. Upgrade your look and level up your comfort by adding this versatile piece to your collection. Why settle for a plain old overall when you can customize it to reflect your unique personality? Just don't blame us if your boss doesn't appreciate your bedazzled workwear.
Customizing Overalls for a Personalized Look
Overalls have become a popular trend in both fitness and workwear. This style can be customized to create a personalized look. By adding unique features, individuals can stand out from the crowd while still embracing this comfortable and practical design.
To customize overalls for a personalized look, follow these 6 steps:
Choose the right material
Select the perfect fit
Add patches or embroidery
Create unique straps and buckles
Accessorize with belts or hats
Experiment with different colors and designs
Personalized overalls are not just about aesthetics; they allow for functional modifications as well. Some individuals may require extra pockets, adjustable straps, or additional reinforcement for heavy use.
With so much versatility in customization, overalls have become an exciting opportunity for expression in both fashion and functionality. Whether it's adding personal touches or creating specific modifications, customizing overalls is both enjoyable and rewarding.
I once knew someone who had customized their overalls with neon-colored stitching that made them stand out at work. The bright detail became a conversation starter among coworkers and gave the individual an added boost of confidence knowing they were wearing something unique.
Baggy overalls: because one size fits all, and nobody has to know what's underneath.
Baggy Overalls for all Body Types
To find the perfect pair of baggy overalls with a comfortable fit for your body type, check out this section on Baggy Overalls for all Body Types with sub-sections for Petite Women, Plus Size Women, Women with Athletic Builds, and Men. Each sub-section contains unique styling tips and options that can enhance your overall look effortlessly.
Baggy Overalls for Petite Women
For those petite women who love the trend of baggy overalls, there are various ways to style them to suit a smaller frame. Here are five points to consider:
Choose overalls with a slimmer fit on the legs and hips to avoid overwhelming your smaller frame.
Opt for shorter lengths or cropped styles, as longer overalls can make you look shorter.
Pick light or medium wash denim for a flattering silhouette. Dark colors will make you look even more petite.
Consider layering with a fitted top underneath or choosing overalls with adjustable straps to avoid looking bulky.
Add height with chunky shoes or heels that complement the style of your overalls.
In addition, shorter women should be mindful of proportions when wearing baggy overalls. Avoid pairing them with loose tops or jackets that add extra volume. Instead, choose fitted options that balance out the bulkiness of the overalls.
When it comes to accessories, small bags and delicate jewelry work best with this trend. Experiment and find what works best for your body shape and personal style.
By following these styling tips, petite women can confidently rock the trendy look of baggy overalls without losing their sense of proportion and balance.
Finally, a fashionable way for plus size women to look like they're wearing adult-sized baby clothes.
Baggy Overalls for Plus Size Women
For women who need fashionable and comfortable outfits to wear, baggy overalls are a great outfit option that flatters all body types. They're especially perfect for plus-size women who want to look stylish and feel great at the same time.
Here are some points to consider when choosing baggy overalls for plus size women:
Choose baggy overalls with wide leg pants that balance out curvier figures.
Opt for darker shades like navy or black which have a slimming effect.
Avoid overalls with straps that go straight down the chest, instead, choose a cross-back design or adjustable straps that relieve pressure on the shoulders.
When styling, keep it simple and minimalistic by pairing the overalls with a fitted top and sneakers or sandals.
Another thing to consider is choosing baggy overalls made of soft cotton or linen materials. This not only ensures comfort but also provides breathability for warm weather.
Don't miss out on incorporating baggy overalls into your wardrobe as they provide a relaxed look while still being very fashionable, unisex and trend-driven fashion item. With proper selection and styling techniques in mind, anyone can rock this versatile piece regardless of their body type. Who needs a six-pack when you can have a six-pocket? Baggy overalls for women with athletic builds – the ultimate fashion statement and storage solution.
Baggy Overalls for Women with Athletic Builds
Here are some tips for choosing and wearing overalls if you have an athletic build:
Choose the right size, not too tight nor too loose, as both may ruin your look.
Buy from reliable brands that understand the clothing needs of athletic builds.
Opt for softer colors as bright shades could make you look fuller than usual.
Accessorize smartly to counterbalance the bagginess of the overall.
Pair your overalls with solid color tees or tanks as printed shirts could add more bulk to your silhouette.
Avoid overalls with too many zippers, pockets or embellishments as they might overpower your look.
Women with athletic builds have bigger shoulders that come with broad chests and hip curvatures. Therefore, selecting baggy overalls featuring thick straps and comfortable fabric will minimize bulky areas and highlight broader areas.
Finally, nothing complements better than self-confidence. If you're confident in what you wear, it gives off a positive vibe and empowers others to acknowledge their beauty irrespective of their body type.
Who needs abs when you have baggy overalls for men? Hide that dad bod and embrace the comfort.
Baggy Overalls for Men
Baggy Overalls for all Body Types
Baggy overalls have become a fashion trend, and they are not just for men. They are comfortable, versatile, and can be worn by anyone regardless of body type. Here are the top six things to consider when choosing baggy overalls:
Fit: Consider your body shape when selecting a fit.
Fabric: Look for durable fabric that doesn't wrinkle easily.
Style: Choose the style that best fits your personality and occasion.
Accessories: Use accessories to dress up or tone down your look.
Shoes: Decide on shoes based on the occasion and style of the overalls.
Care Instructions: Follow care instructions to ensure longevity and appearance.
Unique details about baggy overalls include different strap styles, pocket placements, color options, and material types. These details can influence how the overalls will appear on your body. Ensure you select the right ones to suit your taste and preference.
Pro Tip: For a polished look with baggy overalls, opt for neutral colors like beige or black, accessorize minimally with silver or gold jewelry, pair them with sandals or sneakers depending on the event or setting. Get ready to embrace the latest fashion trend: looking like you just stepped out of a farm with your baggy overalls, now available in all sizes and stains!
Buying and Caring for Baggy Overalls
To master the art of buying and caring for baggy overalls with the right size and fit, proper cleaning and maintenance, and longevity and durability as the key factors, explore this section on 'Buying and Caring for Baggy Overalls'. Discover the benefits of each sub-section: choosing the right size and fit, proper cleaning and maintenance, and ensuring the longevity and durability of your baggy overalls.
Choosing the Right Size and Fit for Baggy Overalls
Choosing the Perfect Fit and Size for Your Baggy Overalls
To ensure comfort and style, choosing the perfect fit and size for your baggy overalls is crucial. Here's a simple three-step guide to help you select the right pair with ease:
Consider the measurements of your waist, hips, and inseam to choose between sizes accurately.
Look up the sizing chart of the brand you wish to purchase from. Every brand has its own fitting model; therefore, reviewing their size chart may save you wastage of time and money on returning it.
Experiment with different styles before settling on one final choice.
When shopping for baggy overalls, keep an eye out for various distinct details such as straps length, zipper placements, multiple pockets being some among others. These factors may impact your overall comfort since they affect how well the garment fits.
One story worth sharing involving a friend highlights why it's essential always to try on any new clothes before purchasing them. My friend purchased a pair of pants online without trying them on beforehand solely based on her estimated size, assumed by her previous clothing experience; however, she ended up having to return them as they were not cut in proper proportion to her body shape.
Cleaning and maintaining your overalls is like taking care of a toddler – messy, time-consuming, and occasionally requiring a hose down.
Proper Cleaning and Maintenance for Overalls
For the optimal state of your loose-fitting overalls, it's important to sustain proper cleaning and maintenance. Here are some steps to keep them in good condition:
Always read the label for precise washing instructions.
Before washing, check for hard stains and treat them beforehand.
Wash them separately or with similar colors in cold water.
Avoid using bleach or fabric softeners.
Hang them to dry at room temperature or tumble dry on low heat.
Additionally, avoid ironing as this can damage any decorative details such as patches and embroidery. Instead, use a steamer to get rid of wrinkles.
It's important to note that proper care and maintenance of your overalls will guarantee extended life-span preserving their quality.
Did you know that overalls were introduced as protective workwear in the 18th century by Welsh miners?
Baggy overalls may outlast your relationships, but they'll always be there to catch you when you fall.
Longevity and Durability of Baggy Overalls
When it comes to the resilience and lastingness of your baggy overalls, there are certain factors to consider. One crucial aspect is the quality of material used in the product's construction. High-quality fabric that can withstand wear and tear extends its longevity. Additionally, proper care and maintenance ensure durability. Regular cleaning using mild detergent helps prevent discoloration or damage from sweat, stains, or other elements.
Another significant factor that impacts the wearing capacity of baggy overalls is the fit. When purchasing one, make sure to choose a size that fits well and provides adequate breathing space for maximum comfort. Tight-fitting garments restrict motion, leads to friction-induced damage to fabric surfaces, tear seams.
One thing often overlooked when it comes to maintaining the durability of baggy overalls is buttoning or zipping them up after wear. Leaving them unfastened results in excessive stretching and deforming on areas such as waistbands or sleeves leading to permanent losses in shape formation.
Lastly, avoid storing your baggy overalls near sharp objects or harsh chemicals that may cause irreversible damage from scratches or spills.
Who knew that baggy overalls would outlast our hopes and dreams for the future?
The Future of Baggy Overalls
To explore the future of baggy overalls in the fashion industry, delve into predictions, evolution, controversies and criticisms of the trend. Discover what the future holds for this iconic 90s trend by examining the potential changes and negative feedback surrounding baggy overalls.
Predictions for the Future of the Baggy Overalls Trend
Baggy Overalls: What the Future Holds
The trend of baggy overalls is not going away anytime soon. In fact, predictions suggest that it will continue to make a statement in the fashion industry for years to come. This may be due to the versatility of the overalls, as they can be dressed up or down and paired with various accessories.
As fashion shifts towards sustainability, eco-friendly materials are becoming more popular in clothing design. Therefore, it is possible that we may see more baggy overall designs using these materials, making them even more attractive to consumers who prioritize sustainability.
Looking beyond aesthetics, baggy overalls have practical uses too. They are comfortable and provide ample storage space with their many pockets. This practicality is likely to sustain their popularity among individuals who prioritize functionality and comfort while maintaining their style.
Pro Tip: To keep this trend up-to-date with contemporary styles, fashion designers should look into innovative materials and consider introducing elements such as cutouts or embroidery patterns on the overalls. From farmer chic to mechanic sleek, the baggy overall trend sure knows how to adapt to different professions.
Possible Evolution of the Baggy Overalls Trend
As fashion continues to progress, the future of baggy overalls appears poised for a significant transformation. Expect new styles and designs that take on a more modern aesthetic, incorporating contemporary iterations to keep up with the times. These updated variations may include sleeker fits, innovative fabrics, reimagined silhouettes, and thoughtful accents.
The upcoming evolution of baggy overalls may also lean towards sustainable production methods and eco-friendly materials. Expect a shift towards ethical practices that prioritize environmental responsibility throughout all phases of production.
Aside from these potential developments, the trend might also introduce new color palettes and prints beyond traditional denim materials. Keep an eye out for brighter hues, playful patterns and textures, or even unconventional fabrics outside the denim category.
Accessorizing the baggy overalls look will also see changes within the trend's progression. In addition to classic looks such as sneakers or boots; newer accessories like chunky jewelry or structured bags could add dimension and variety to this casual yet chic style.
It will be interesting to see how designers adapt their designs in response to emergent cultural trends that are inherently unpredictable. Nonetheless, The Future of Baggy Overalls is sure to excite fashion aficionados and evolve into something unique while not forgetting its classic charm.
Baggy overalls may be controversial, but at least you can always count on them to hide any food babies or questionable fashion choices.
Controversies and Criticisms of the Baggy Overalls Trend
The public perception of baggy overalls has been highly debated, raising several concerns and criticisms.
Baggy overalls are reported to be unflattering on some body types.
They have been criticized for not being professional or formal enough for certain settings.
Due to their relaxed nature, some argue that baggy overalls promote a lazy or careless demeanor.
Others find them impractical for physical activities and chores as they can be restrictive and uncomfortable.
The trend has also raised questions about its environmental impact given the energy-intensive cotton production process used in making them.
Socioeconomic criticisms suggest that the trend is only accessible to certain income brackets, further contributing to social inequalities.
As the popularity of baggy overalls continues to rise, it is essential to recognize the underlying controversies surrounding this fashion statement. Moreover, reports from Vogue magazine suggest that designers such as Stella McCartney have started incorporating sustainable fabrics like recycled denim into their overall collections.
Interestingly, The Guardian mentions that farmers in Burkina Faso make less than a penny per kilo of cotton sold to manufacturers like Levi's jeans.
Overall, debates surrounding baggy overalls continue to be relevant and pertinent in shaping future fashion trends.
Frequently Asked Questions
1. What are baggy overalls?
Baggy overalls are a style of clothing that originated in the 90s. They are a loose-fitting one-piece garment that typically has suspenders and can be worn with a shirt or without.
2. Why are 90s baggy overalls back in style?
90s baggy overalls are back in style because of the resurgence of 90s fashion trends. Many people are nostalgic for the fashion of their youth, and baggy overalls are a comfortable and trendy way to incorporate that style into their wardrobe.
3. How can I style baggy overalls?
Baggy overalls can be styled in a variety of ways. They can be worn with a cropped top or t-shirt, layered over a long sleeve shirt, or worn with a sweater or jacket for colder weather. Pair them with sneakers or boots to complete the look.
4. Are baggy overalls comfortable to wear?
Yes, baggy overalls are comfortable to wear because of their loose fit. They are also versatile and can be dressed up or down for any occasion.
5. What materials are baggy overalls made of?
Baggy overalls are typically made of denim, but they can also be made of cotton or other lightweight fabrics. They can come in a variety of colors and washes to suit anyone's style.
6. Can baggy overalls be worn by all body types?
Yes, baggy overalls can be worn by all body types. They are a forgiving style that can be adjusted to fit any shape or size. They are also versatile and can be worn in different ways to flatter any body type.
7. What other articles should I read?
No 90s wardrobe was complete without a pair of baggy overalls, the epitome of laid-back cool. This iconic piece of attire is the heart of 90s fashion, but it didn't stand alone. Whilst many rocked these overalls, often others sported competing looks like the 90s Bongo jeans or even the 90s Flare jeans for a perfectly 90s vibe.