The resurgence of 90s fashion trends manifests itself in the latest fashion collections. One of these retro trends is the overall shorts. These throwback wardrobe staples are now making a comeback and being sported by influencers and celebrities alike. The nineties cult classic overalls for both men and women have been transformed into these striking shorts with button closures, adjustable straps and front pockets that add a touch of urban chic to any outfit.
The denim-based short-alls received much attention on catwalks from designers such as Marc Jacobs, Chanel and Yves Saint Laurent among others. The overall shorts' look can range from casual to polished – pairing them up with sneakers gives a laid-back feel while high-heels bring out sassiness. Moreover, they are versatile enough to be worn during both daytime and nighttime events. Without a doubt, you can embrace nostalgia in your styling by donning this funky piece.
Besides the overall shorts' versatility is their practicality. They offer comfortability when it comes to movement as well as protection for when you want to enjoy skateboarding or cycling without revealing too much skin. For those who take modesty seriously yet want to get away from wearing pants in hot weathers, this staple fits right in their wardrobes.
If you're looking for an old-fashioned retro-vibe with an avant-garde twist, then overall shorts ought to be part of your summer wardrobe essentials kit because trust me; you do not want to miss out on this sizzling trend highlighting its nostalgic flair! Overall shorts are back, proving that even fashion can't resist the nostalgic charm of the 90s.
The comeback of overall shorts
To understand the comeback of overall shorts, delve into the history of overall shorts and the different styles of overall shorts. Popular brands offering overall shorts bring a unique touch of individuality and style to these trending pieces.
History of overall shorts
From farm gear to fashion must-haves, overall shorts have undergone a major transformation. The history of overall shorts dates back to the early 1900s when they were introduced as workwear. During World War II, they became popular amongst women working in factories. In the 70s and 80s, overall shorts made their way into pop culture and became a staple fashion item that we still love today.
The practicality of these garments suited those who wanted to dress comfortably while also staying fashionable. Today, overall shorts are back in style with brands reinventing this classic look. The nostalgia factor plays an important role in their resurgence and has attracted younger generations looking for trendy yet comfortable clothing choices.
Interestingly, some fashion enthusiasts believe that pairing overall shorts with high-end pieces makes for a unique look that merges high-end couture with an everyday classic.
If you're looking to upgrade your summer wardrobe, get yourself a pair of stylish overalls before it's too late! Experience the comeback of this versatile garment that will never go out of style. Don't miss out on becoming part of this iconic trend that celebrates comfort and style all at once.
From distressed denim to floral patterns, overall shorts are the mullet of fashion – business in the bibs, party in the shorts.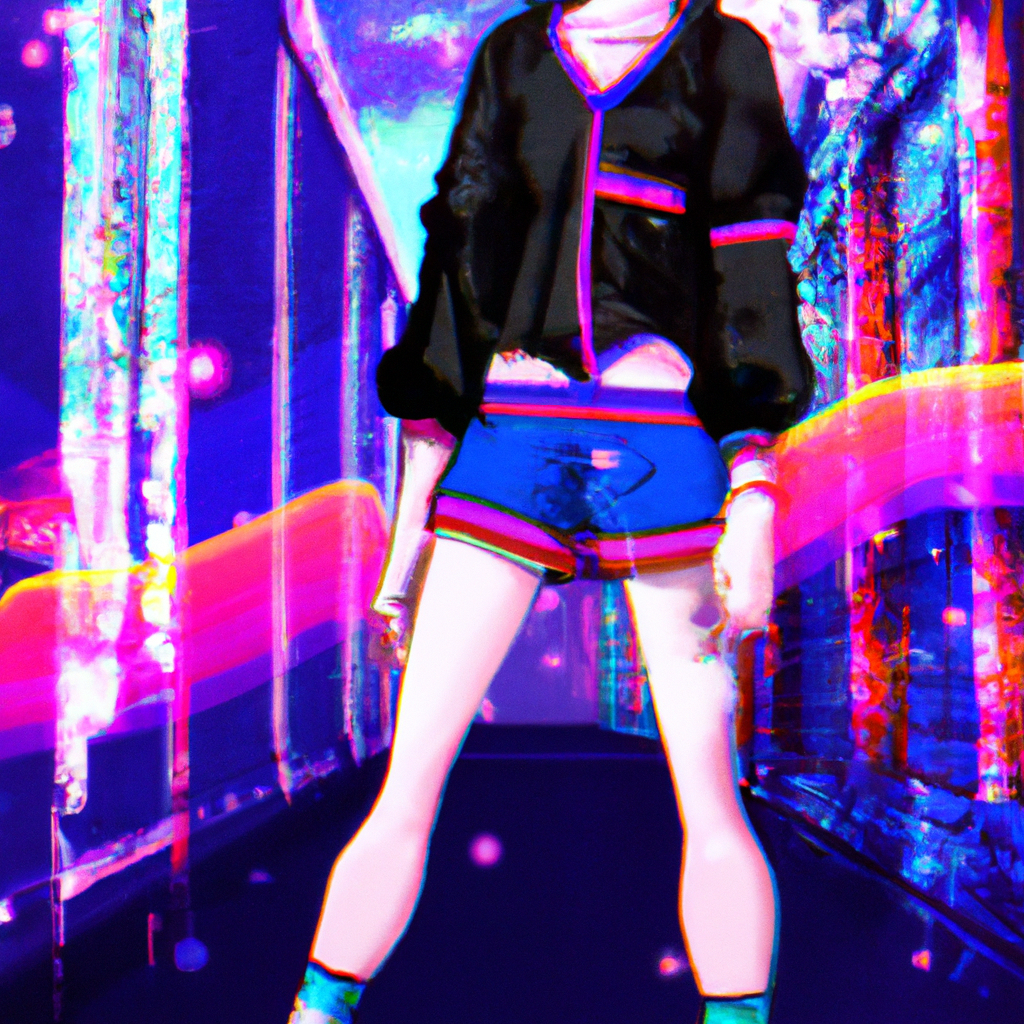 Different styles of overall shorts
Overall shorts have made a major comeback in recent fashion trends. They come in different styles, making them versatile and trendy.
Denim Overall Shorts: Denim overall shorts are the most popular and classic style. They come in varying lengths, from short to long, and can be worn with almost anything.
Baggy Overall Shorts: Baggy overall shorts offer a comfortable fit and relaxed look. They are perfect for casual outings and can be styled with sneakers.
Form-Fitting Overall Shorts: Form-fitting overall shorts showcase the body shape while providing comfort and ease of movement. These can be paired with heels for an elevated look.
Embellished Overall Shorts: For those who love a little extra, embellished overall shorts decorated with accessories like buttons or embroidery create unique statement pieces that elevate any outfit.
Apart from these styles, overall shorts can also feature different colors, textures, materials, and patterns to suit everyone's taste.
Some suggestions include pairing denim overall shorts with crop tops or graphic tees for a casual look. For dressier occasions, form-fitting overalls would pair well with blouses and heels. Baggy overalls can be worn with sneakers or sandals for more of a laid-back vibe. Lastly, embellished overalls make a statement on their own; pair them with simple tops or go bold by mixing prints.
Remember to have fun with styling your overall shorts by experimenting with different combinations to create looks that match your personality!
Get ready to overall your wardrobe with these brands jumping on the onesie bandwagon.
Popular brands offering overall shorts
Looking for the latest trend of overall shorts, we have found many popular brands that are offering the perfect ensemble of comfort, style and sophistication. Here are some brands that stand out:
Levi's
Madewell
Zara
H&M
Abercrombie & Fitch
Free People
These brands offer an impressive selection of overall shorts, catering to both men and women with different color schemes, fabrics and sizes. Their designs exude a casual and relaxed aesthetic, perfect for summer fashion.
For those who want something more unique, there are some labels such as By Walid and Blue Blue Japan that incorporate beautiful prints and unusual patterns into their overalls. These options add an elaborate style to your wardrobe!
One suggestion is to pair it with the right t-shirt or blouse. Since overall shorts can overshadow any look – whether for work or play – consider complementing them with solid-colored pieces. Furthermore, accessorizing with a hat or trendy footwear can add depth and interest to your outfit.
Overall shorts: the perfect answer to the question, 'what should I wear when I want to look like a farmer but also have access to a lot of pockets?'
How to style overall shorts
To style overall shorts with a casual daytime look, dressing up for an evening event, and accessorizing overall shorts, consider the various sub-sections that can help you achieve the perfect overall shorts outfit for any occasion. Whether you want to create a laid-back style or dress up for a night out, use these tips to find the best way to rock this popular 90s trend.
Casual daytime look
This section focuses on the attire you can flaunt during a relaxed daytime event. The overall shorts are comfortable but require precise styling to look effortless and chic at the same time.
Choose a comfortable pair of overall shorts that fit impeccably and highlight your curves. Pair it with a simple white tee, striped shirt or loose crop top.
Wear minimalist accessories such as hoop earrings and thin gold chains to give an elegant touch to your casual outfit.
To complete the look, put on some white sneakers or strappy sandals for maximal comfort while giving off an appealing vibe.
In case you want to switch up the classic combination, opt for pairing them with bright colors or adding an oversized denim jacket for that extra edge.
One time I had trouble balancing comfort and elegance at a day party. Choosing an overall short ensemble made me feel fashionable yet comfortable throughout the entire event.
Who says you can't wear overall shorts to a fancy event? Just pair them with heels and a blazer, and you'll be the talk of the town (for better or worse).
Dressing up for an evening event
Attire for a sophisticated evening event should reflect a certain level of elegance and refinement. Consider an upscale dress code with formal decorum to influence your outfit choices. Opt for timeless pieces in a bold color palette or a sleek monochromatic ensemble with strategic accessorizing, rather than trendy styles that may appear too casual.
When choosing an outfit, keep in mind the venue and its aesthetic as well as the activities planned for the evening. A floor-length gown or cocktail dress can be paired with statement jewelry and heels, while tailored suits or tuxedos provide classic options for both men and women. Sophisticated blouses with high-waisted trousers can also be styled with structured blazers and chic footwear.
Don't forget to pay attention to grooming, hair, and makeup as these details can enhance the overall look of any outfit. A subtle smoky eye or bold red lip can add intrigue to a monochrome look while voluminous curls or an updo complete formal ensembles.
To stand out from the crowd, consider incorporating elements of personal style through unique accessories such as statement earrings, bags or shoes. Don't hesitate to embrace your own style interpretation by choosing pieces that resonate personally but maintain formality.
In order to make an impressive fashion statement at an evening function attire should boast elegance and class above anything else. Whether it's picking accessorizes that compliment chosen garments or crafting hair perfectly; acute attention to detail should feature within planning process ensuring precision upon arrival.
Who needs a statement necklace when you can just wear overall shorts that scream 'look at me'?
Accessorizing overall shorts
When it comes to enhancing the style of overall shorts, certain accessories can make a significant difference. Here are four ways to elevate the look of your overall shorts:
Add a belt to cinch in at the waist and add a touch of sophistication.
Pair with statement earrings or necklace to draw attention to your face.
Rock either a pair of heeled sandals or sneakers depending on the occasion.
Throw on a hat, whether it's a baseball cap for casual events or sun hat for something more formal.
To fully accessorize overall shorts, one key detail is not enough. It's important to consider the entire outfit for an ultimate style statement. With all said, remember that minimalism is always chic and elegance never fades.
As timeless as overalls are, they have been undergoing evolutions since their very beginning. Initially designed for railroad workers in the early 1900s, overalls became popular workwear for farmers and mechanics in the following years. Eventually, by the '80s and '90s, overalls became staples of street-style fashion thanks to hip-hop artists sporting two-tone outfits.
Whether you're curvy or straight as a ruler, overall shorts will hug your body like a toddler on a sugar high.
Overall shorts for different body types
To find the perfect overall shorts for your body type, turn to this section on 'Overall shorts for different body types' with 'Petite body type, Tall body type, Plus-size body type' as solution. Each sub-section will provide a brief guide on how to embrace this 90s trendsetter and make it work for your unique body shape.
Petite body type
For those with a smaller frame, finding the perfect pair of overall shorts can be challenging. However, selecting the right fit can provide an elongated and balanced look.
Opt for petite sizes to avoid bunching or extra fabric around the waist and crotch area.
Look for a narrower leg opening to create a streamlined silhouette.
Choose shorter overall straps to avoid overwhelming the body proportions.
It's important to note that while petite individuals tend to have a smaller frame, their body shape and measurements may vary. With this in mind, it's imperative to consider personal preferences and try multiple styles to find the best fit.
A well-fitted pair of overall shorts can be versatile for any summer activity. Enhance your wardrobe with confidence by selecting options suitable for your unique body type. Don't miss out on the opportunity to elevate your fashion sense.
Who says overall shorts are just for kids? Tall bodies can join the fun too, just make sure to avoid the awkward 'wedgie shorts' look.
Tall body type
For individuals who possess taller structures than average, it can be a challenging task to find clothing that compliments their body type. However, overall shorts are one such article of clothing that not only suits their body form but also accentuates their tallness. By elongating the legs and highlighting the torso's length, these shorts can significantly enhance their appearance.
When opting for overall shorts, tall individuals should opt for longer hemlines to emphasize the length of their legs further. Additionally, high-waisted options work well with taller frames and provide an illusion of additional height by elongating the torso section of the body. A perfect choice would be to go for straight-legged or wide-legged pairs for a sleek look.
It is significant to keep in mind that fitting is key when it comes to overalls. For people with a tall figure, choosing options that have adjustable straps will create an optimal fit for their natural waistline and help avoid adding unwanted width or bunching in areas like the hip or waist region.
One fascinating aspect about overall shorts is its history—It began as an essential tool for laborers during economic development periods where it became a symbol of progress and increased efficiency in work tasks. With passing time, overall shorts morphed into trendy fashion wear amongst young individuals today.
Who said overalls are only for farmers? Plus-size bodies know how to rock those denim overalls with some serious sassy attitude.
Plus-size body type
For those with a fuller figure, selecting the right pair of overall shorts can be complicated. Choose a pair that flatters your curves while also providing comfort. Look for high-waisted designs to smooth and shape the midsection while also elongating the legs. Avoid overly form-fitting styles that highlight problem areas and instead opt for looser fits that skim over curves.
It's critical to choose fabrics that complement your frame, such as denim, which is both sturdy and supportive. To give an illusion of length, opt for vertical stripes or playful patterns, both of which draw attention away from problem areas. Experiment with layering by pairing loose overalls with fitted tops or jackets for a more balanced look.
When choosing accessories to complement your outfit, consider adding a wide belt around your waistline to accentuate your curves further. A stylish hat or bold necklace can draw attention upward toward the face rather than solely on the body.
Overall shorts: the perfect combination of fashion and functionality, unless you need to use the restroom.
Conclusion: Overall shorts as a versatile and trendy fashion staple.
The revival of the classic '90s staple, overall shorts, has taken the fashion world by storm. Its versatility allows it to be dressed up or down, making it a trendy must-have for any closet. Pairing it with a simple tee and sneakers creates a casual vibe, while teaming it up with heels and jewelry elevates its look for formal occasions.
Overall shorts' enduring trend popularity stems from their seamless ability to complement any body type and fit comfortably on anyone. With this renewed surge in popularity, brands have begun incorporating environmentally-friendly materials into their design process as part of an effort to go green.
While overalls were originally worn by farmers during the late 1700s to early 1800s due to its durable and functional nature, denim overalls became popular in America during the 1930s as workwear adopted by laborers. It wasn't until the mid-90s when overall shorts started taking off in mainstream fashion as a statement piece among Gen-Z style icons such as Britney Spears and Christina Aguilera, embodying the pop-era with bold colors and youthful designs.
Frequently Asked Questions
Q: What are overall shorts?
A: Overalls shorts are a type of clothing that combines the top and bottom halves of a traditional pair of overalls, but with shorts instead of pants. They typically have adjustable shoulder straps and a front bib with a pocket, and they button or fasten at the waist.
Q: Are overall shorts back in style?
A: Yes! Overall shorts, also known as shortalls, are experiencing a resurgence in popularity as part of the 90s fashion revival. They're seen as a fun and casual alternative to traditional shorts or skirts.
Q: What occasions are appropriate for wearing overall shorts?
A: Overall shorts can be worn in a variety of settings, from running errands to attending a casual outdoor event. They're especially popular for music festivals and summer parties.
Q: What should I wear with overall shorts?
A: Overall shorts look great with a variety of tops, including crop tops, graphic tees, and tanks. Pair them with sneakers for a casual daytime look, or with sandals or heels for a more dressed-up outfit.
Q: How do I choose the right fit for overall shorts?
A: Look for a pair of overall shorts that fits in the waist and hips and allows plenty of movement in the legs. Adjustable shoulder straps can also help ensure a comfortable and secure fit.