When it comes to fashion, there's nothing quite like a vintage piece to make a statement. And for anyone looking to channel the glamour of the '90s, a vintage 90s prom dress is the ultimate throwback look. With its swingy skirts, delicate lace details and bold colors, this timeless style can be easily updated with modern accessories for a fresh take on retro chic. Whether you're attending a formal event or just want to inject some fun into your everyday wardrobe, a vintage 90s prom dress is sure to turn heads.
One of the great things about this style is its versatility. Depending on your personal taste and the occasion you're dressing for, you can choose from a wide range of cuts and silhouettes. From full-skirted ballgowns to slinky spaghetti strap dresses, there's something for everyone. And because these dresses are so distinctive in their design, you don't need to go overboard on accessories. A simple pair of strappy sandals or pumps and perhaps some delicate jewelry will suffice.
Another key advantage of choosing vintage 90s prom dresses is affordability. Because they're second-hand garments that have already had their heyday, they often come at much more reasonable prices than contemporary designer pieces. This means you can invest in a beautiful dress without breaking the bank.
Ultimately, fashion is all about expressing yourself and having fun with your wardrobe choices. And what could be more playful or empowering than wearing a unique piece that harks back to another era? Try out vintage 90s prom dresses today and revel in the nostalgia-filled beauty they bring!
Step back in time with a vintage 90s prom dress and unleash your inner Cher Horowitz with its bold prints and unique features.
Features of Vintage 90s Prom Dress
Vintage 90s Prom Dress – A Step Back in Time
The vintage 90s prom dress is iconic, known for its unique features that set it apart from contemporary dresses. The era's distinct fashion sense appealed to many, and the prom dress remains a favorite among people despite the time that has passed.
Some prominent features of vintage 90s prom dresses include a sheer bodice with intricate beadwork, off-shoulder straps or halter necklines, a high slit on the skirt and statement accessories like chokers or hoop earrings. The ideal fit is body-hugging yet comfortable.
The 90s prom dresses come with intricate beading.
It also had off-shoulder straps or halter necklines.
It was appreciated because of its high slits on the skirt.
The prom dress required statement accessories like chokers and hoop earrings.
The perfect fit that provided comfort along with hugging the body nicely.
The attention-grabbing aspect of these dresses is their timeless appeal; they can be worn at any event with a touch of vintage allure. In addition, they exude glamour, elegance and present an impressive outlook that is unparalleled in today's fashion trends. These factors cemented their position as one of the most desirable vintage fashion styles.
One fascinating detail about these classic gowns' designs is that they are bespoke, having been created by top designers of the time who catered to high-end clients. With rare prints and patterns that are distinctively from this era.
Once upon a time, my friend attended her senior prom wearing a lovely pastel-colored 90s prom dress she found in her mom's closet. It was stunning – sequins, beads and tulle work combined beautifully to create an unforgettable look that bested all other outfits at the event. She quickly became the talk of the night, and everyone was in awe of her dress. It just goes to show that some classics never go out of style.
Get ready to time-travel and channel your inner 90s prom queen with these top spots for finding vintage dresses.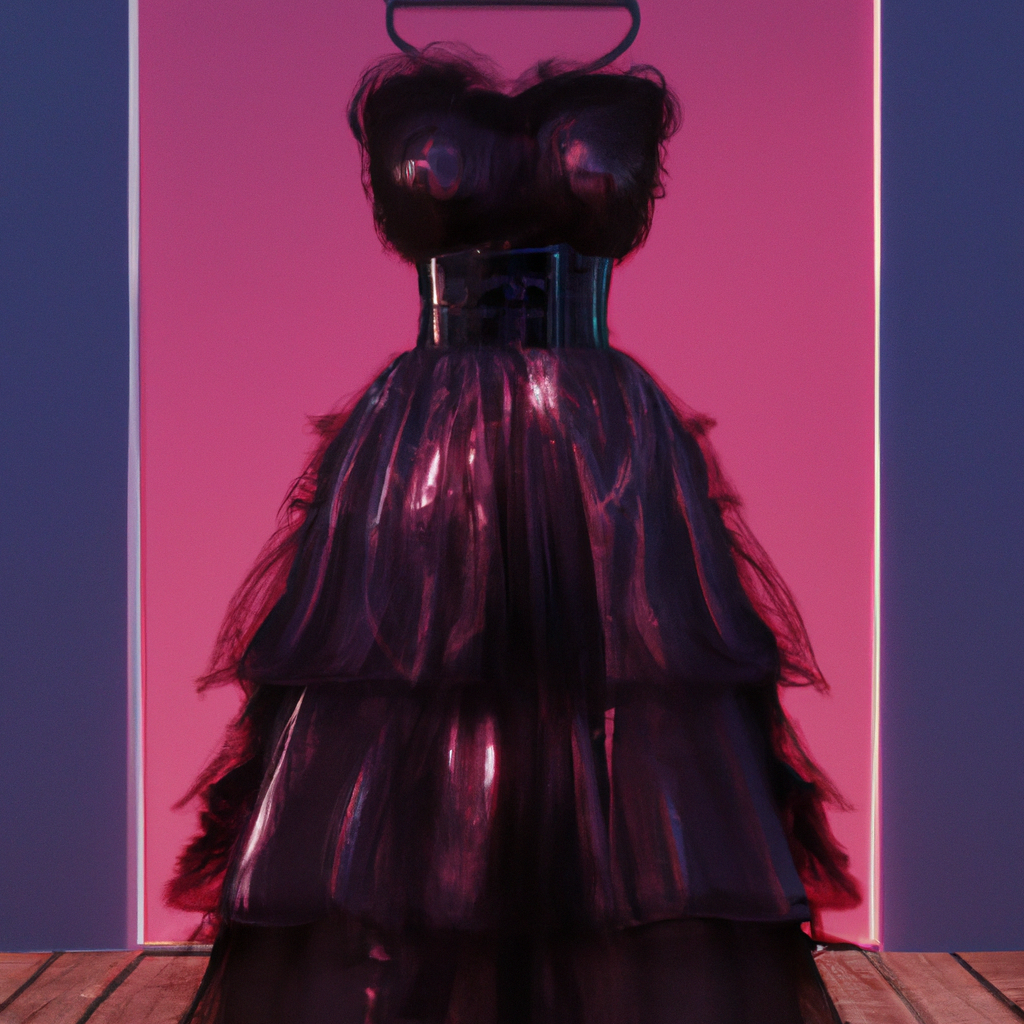 Where to Find Vintage 90s Prom Dress
Vintage 90s prom dresses can be found in vintage clothing stores, thrift shops, and online boutiques. These timeless dresses are from a bygone era and provide a unique throwback look for prom night.
When searching for the perfect vintage 90s prom dress, consider visiting local boutiques or thrift shops first as they may have hidden gems waiting to be discovered. Online stores such as Etsy and Poshmark also offer a wide selection of vintage dresses that can be sorted by style, size, and price.
To ensure that you purchase an authentic piece, check the materials used in the dress as well as any labels or tags attached. It's also important to note that vintage sizing can differ from modern sizes so be sure to measure yourself before making any purchases.
Pro Tip: Don't be afraid to alter the dress to fit your desired style or custom fit. A simple hemline adjustment can make all the difference in creating your dream vintage prom attire.
Transform your vintage 90s prom dress from dated to daring with these styling tips!
Styling Tips for Vintage 90s Prom Dress
With a Vintage 90s Prom Dress, there are numerous ways to style and rock the throwback look. For a classy and elegant appearance, opt for simple accessories like stud earrings or a delicate necklace. A bold colored lip or smokey eye can add a touch of glam to your ensemble. Avoid over-accessorizing and let the dress be the centerpiece.
To further elevate your vintage prom look, try incorporating contemporary fashion elements such as leather jackets or sneakers. These items can contrast with the retro-style of the dress to create an edgy yet sophisticated appearance.
Don't forget to consider hair and makeup when styling your vintage 90s prom dress. Soft waves or sleek ponytails can add an elegant touch while dramatic updos create a statement look. When it comes to makeup, experiment with bold colors and metallic shades that were popular in the 90s era.
Remember that confidence is key when wearing a vintage prom dress. Embrace the unique style and have fun experimenting with different looks!
Rewind to the 90s with these prom dress styles that scream 'I'm retro and I know it'.
Popular Vintage 90s Prom Dress Styles
The fashion of Vintage 90s Prom Dresses has been making a comeback lately, invoking nostalgia for a bygone era. Here are some of the most popular styles from that time period:
The Slip Dress: A simple yet elegant style characterized by spaghetti straps and a slip-like silhouette. It was known for its simplicity and comfortability.
The Poufy Dress: A dress with a fitted bodice and flared skirt, often featuring multiple layers of tulle and lace. This dress was perfect for anyone looking to channel their inner princess.
The Two-Piece Dress: A top-and-skirt combo that allowed for mix-and-matching, creating endless possibilities for personalized styles. It was both stylish and versatile.
The above dress styles have become quite popular in recent times, with modern-day designers taking inspiration from the 90s aesthetic to create unique looks.
It's worth mentioning that each Vintage 90s Prom Dress comes with its own set of unique details such as color combinations, embellishments, ruching, or even sequin patterns. Each added detail makes them stand out as individual pieces of art.
Don't miss out on this trend revival! Get your hands on the best Vintage 90s Prom Dress styles now before they're gone. Embrace your inner fashionista and transport yourself back to the golden age of prom night glamour!
Get ready to rock the ultimate 90s prom look and make everyone wonder if you just stepped out of a time machine – just don't forget to bring a Discman to the after-party.
Conclusion
This article explored the vintage 90s prom dress, which is making a comeback in modern fashion trends. The throwback look of the 90s prom dress is perfect for anyone looking to add a unique edge to their wardrobe. In addition, the dress is an excellent choice for those who want to show their respect and appreciation for the bygone era.
These dresses are available in various lengths, styles, and colors, making it easy to find one that fits your taste and body type. From pastel shades of pink and blue to bold metallic hues, there's no shortage of options when it comes to picking your ideal 90s prom dress.
One of the best things about this trend's revival is that not only do these dresses give off an amicable vibe but they also promote sustainability as individuals upcycle vintage pieces rather than purchasing new ones. Moreover, these dresses could be passed down as family heirlooms or sold at vintage stores later.
Interestingly enough, Vintage 90s Prom Dresses weren't just prominent among women in high school; they were also very much a favourite among both teen boys and girls alike! Described as having long hair with minimal hairstyles faced with shoulder pads under formalwear all-round: fluffy gowns and oversized tuxes were the norm back then.
Frequently Asked Questions
1. How do I style a vintage 90s prom dress?
Answer: You can style a vintage 90s prom dress with chunky heels, minimal jewelry, and a statement clutch. Don't forget to add a bold lip color for an extra pop!
2. Where can I buy a vintage 90s prom dress?
Answer: You can find vintage 90s prom dresses at thrift stores, online vintage shops, and specialty vintage boutiques.
3. Are vintage 90s prom dresses expensive?
Answer: The price range for vintage 90s prom dresses varies depending on the condition, style, and rarity of the dress. You can find affordable options at thrift stores, while specialty vintage boutiques may have higher-priced pieces.
4. What styles were popular for 90s prom dresses?
Answer: Some popular 90s prom dress styles include a-line dresses, spaghetti strap dresses, and dresses with sheer or lace detailing.
5. Can I alter a vintage 90s prom dress to fit me?
Answer: Yes, you can alter a vintage 90s prom dress to fit your body. However, it's important to consider the condition of the dress and consult with a professional tailor to ensure the alterations won't damage the garment.
6. How do I properly care for a vintage 90s prom dress?
Answer: To properly care for a vintage 90s prom dress, avoid washing it in a washing machine. Instead, spot clean any stains and hang the dress in a cool, dry place to air out. If you need to store the dress, keep it in a garment bag to protect it from dust and sunlight.