To get started on mastering your vintage style with stunning 90s maxi dresses, get to know the overview of 90s maxi dresses. Define what exactly a "90s maxi dress" is and understand its rise in popularity in current fashion.
Definition of 90s Maxi Dresses
The 90s maxi style is characterized by floor-length dresses with diverse patterns. These garments vary from basic to extravagant in terms of design, fabric and shape. The trend emerged in the early 90s and was celebrated for its versatility as it could easily be dressed up or down. This variation provided women with a feminine yet comfortable choice of clothing suitable for most occasions.
The fabrics used in maxi dresses were mostly light and flowy, such as cotton, silk and chiffon. The common print styles included floral designs, polka dots, checks and stripes. The rise of grunge fashion in the decade also saw the coming of darker colours blended with different patterns to produce edgy dress designs.
This trend may have come and gone but continues to inspire modern fashion designers today. It is interesting to note how people's perception of what defines comfort may evolve over time depending on culture, environment and society.
At a recent red-carpet event, American actress Zendaya caused quite an uproar when she donned an iconic 90s-style hot-pink draped maxi dress by Vivienne Westwood paired with simple jewellery and matching satin heels. The outfit set social media abuzz proving yet again that iconic trends never really go out of fashion completely; they just evolve with time!
"Who knew that those flowy, floral nightmares from the 90s would make a comeback? But let's be real, we're still not over the trauma of trying to walk up stairs in one of those things."
Popularity of 90s Maxi Dresses in Current Fashion
The resurgence of 90s fashion has led to an increasing demand and popularity for maxi dresses, particularly the ones from the decade. The 90s maxi dress revival is a reflection of the fashion industry's cyclical nature that sees old styles and trends ultimately make their way back into mainstream fashion. The versatility of 90s maxi dresses makes them fit perfectly in current wardrobes, and they can be dressed up or down for different occasions.
These dresses typically feature a loose-fitting silhouette, flowy hemlines, and bold floral prints, which make them perfect for spring/summer outfits. They can be paired with boots for a casual vibe or heels for fancier events. Layering them up with leather jackets or denim jackets adds an edgy look.
However, unlike the original 90s designs that only catered to petite sizes, today's trend encompasses sizes ranging from XXS to XXL. This inclusivity helps create diverse looks adapted to different body types and sizes, giving everyone the opportunity to embrace this classic style.
Pro Tip: If you want a cohesive look when wearing your 90s maxi dress outfit, choose accessories like choker necklaces or platform shoes – both highly fashionable during the era-to complete your ensemble.
Get ready to swoon over these 90s maxi dresses – they're so stunning, even your ex will regret their poor life choices.
Characteristics of Stunning 90s Maxi Dresses
To nail the vintage style with stunning 90s maxi dresses, you should consider three things: length and silhouette, fabric and print, and neckline and sleeve. These characteristics can make or break your look, so it's essential to understand their significance for each sub-section.
Length and Silhouette
Maxi dresses from the 90s had distinct characteristics when it comes to their length and silhouette. These dresses came in various styles that exuded a sense of effortless style and comfort.
A closer look at the Length and Silhouette of stunning 90s maxi dresses will reveal that most styles feature a flowing, floor-grazing hemline with a fitted or cinched waist. Additionally, some maxi dresses offered daring cutouts, high slits, or plunging necklines, creating an alluring look.
The following table provides specific details regarding this distinctive characteristic:
| Maxi Dress Style | Description |
| --- | --- |
| Fitted | Form-fitting shape from the bodice to the hips |
| Empire waist | High-waisted dress with a seam below the bust |
| A-line | Skirt flares out in an "A" shape from waist down |
| Halter | Straps tie behind the neck |
Another notable detail about 90s maxi dresses is their unique fabric choices. Most popular were airy and lightweight materials like cotton, silk, rayon, with bohemian-inspired prints featuring paisley patterns and floral designs.
It's worth mentioning that iconic fashion designer Betsey Johnson was known for her playful yet sophisticated take on maxi dresses in the 90s. She incorporated bold prints, unique fabrics, and intricate detailing into her styles which became a cultural icon.
In fact, according to Elle magazine*, Betsey Johnson's whimsical designs helped pave the way for more playful and expressive fashion during this era.
Overall, stunning 90s maxi dresses continue to influence modern-day fashion trends with their flowy silhouettes and eclectic patterns – showcasing its timeless appeal.
*Source: The Iconic Betsey Johnson Talks Barbie Collab & Turning Heads In The '70s & '80s (Elle Magazine)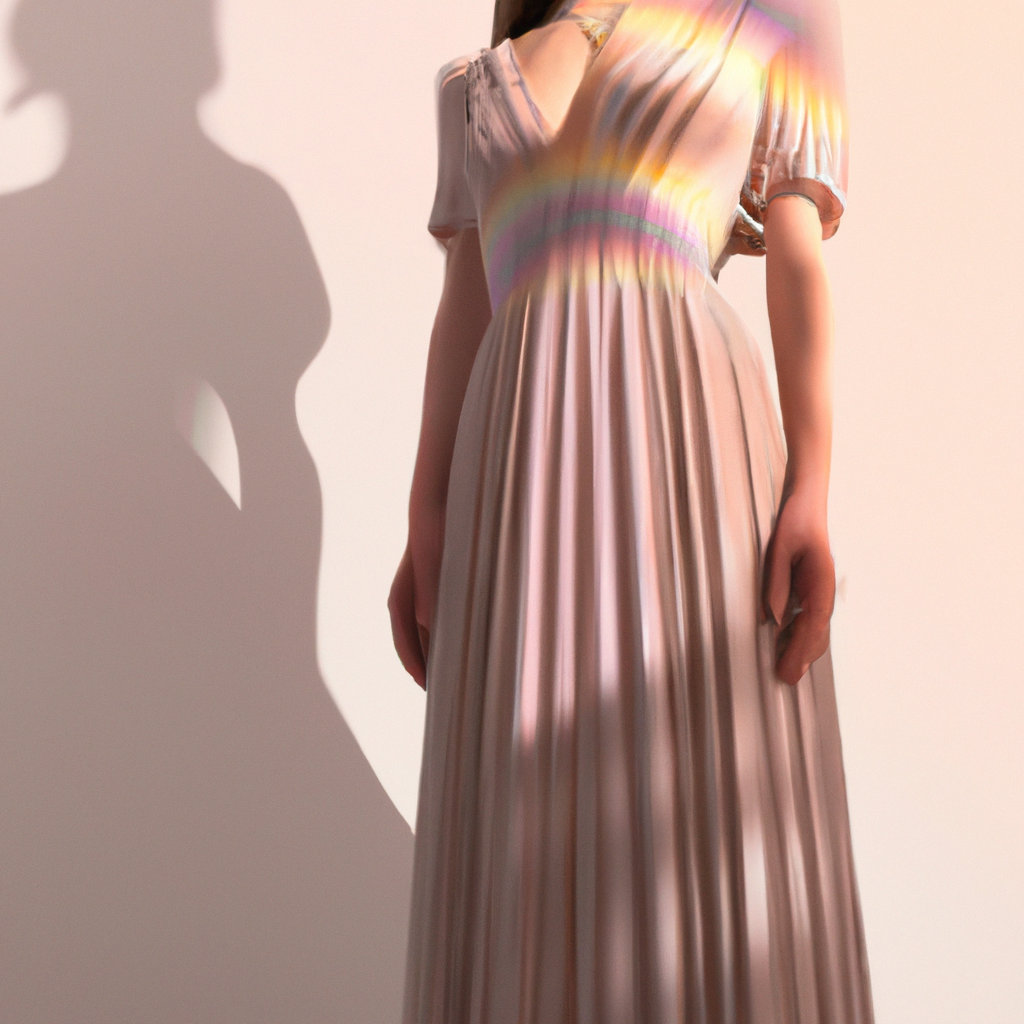 Fabric and Print
As we explore the stunning 90s maxi dresses, we must not forget to divulge into the intricate details of their fabric and print. The fabric of these dresses heavily focused on lightweight materials such as chiffon, silk, and cotton to ensure a flowy silhouette. The prints were bold, vibrant and often incorporated floral patterns and animal prints.
Fabric and Print:
| Fabric Types | Key Characteristics |
| --- | --- |
| Chiffon | Flowy and sheer |
| Silk | Lightweight and airy |
| Cotton | Comfortable and breathable |
The print designs were not just limited to florals but also included abstract patterns, polka dots, stripes, tribal prints, paisleys, and more. Their color schemes were often bright and vivacious.
Unique to these maxi dresses was their length – they extended past the ankles but still embraced the body's shape for an elegant look. Their sleeves could either be long or short with unique cutouts or off-shoulder details.
One interesting story about these maxi dresses was that they became increasingly popular during beach vacations in places like Hawaii or Bali thanks to their light fabrics fitting well into tropical environments. Celebrities like Julia Roberts in Pretty Woman made them even more popular by showcasing their versatility in both casual settings and upscale events.
Who needs a necklace when you have a neckline that steals the show? These 90s maxi dresses are all about showing off those collarbones.
Neckline and Sleeve
The design aesthetics of 90s maxi dresses had unique features that characterized their Neckline and Sleeve styles.
A visually appealing neckline was commonly featured in these dresses with straight-cut necklines, deep Vs and scoop necks. The sleeve style varied from long and flared to off-shoulder or spaghetti straps. Here is a comparison table showcasing the characteristic Neckline and Sleeve styles of Stunning 90s Maxi Dresses:
| Neckline | Sleeve |
| --- | --- |
| Straight-cut neckline | Long and flared sleeves |
| Deep V-neckline | Off-shoulder style |
| Scoop neck | Spaghetti straps |
Moreover, the use of intricate lace details and embroidery creatively enhanced these dresses' neckline and sleeve designs, providing a bohemian feel to them.
Interestingly, the origin of the deep V-neck style, largely seen in the 90s maxi dresses, can be traced back to ancient Japan's Kimono designs, where they were traditionally worn in festivals for beautification purposes.
Transform your 90s maxi dress from drab to fab by accessorizing with a statement belt and some killer heels.
How to Style a Stunning 90s Maxi Dress
To style a stunning 90s maxi dress with the perfect footwear and accessories, hair and makeup, and for occasions and events, look no further. Discover the possibilities of these sub-sections for a standout vintage look.
Footwear and Accessories
To complement and enhance the look of your 90s maxi dress, consider incorporating appropriate footwear and accessories that will make you stand out. Here are some tips to guide you:
Elevate your dress with stylish shoes: Match your vibrant maxi dress with block heels or classic platform sandals for a chic summer look. Alternatively, opt for ankle boots or trainers for a more casual appearance.
Add a belt to accentuate your waist: By cinching in your waist with a thin belt, you can give structure to the loose silhouette of the maxi dress while accentuating your curves.
Accessorize minimally: With such a statement-making outfit, less is often more. Enhance your look with simple jewelry like hoop earrings or a pendant necklace and finish it off with sleek sunglasses.
Experiment with handbags: Consider carrying different bags in contrast to the style of your maxi dress. A leather backpack could lend an edgy feel while a crossbody bag could match the flowiness.
To tie everything together seamlessly, ensure that your accessories match the overall color palettes and tones of your outfit. By following these guidelines, you can create an effortlessly chic yet modern ensemble perfect for any occasion.
If your hair and makeup don't scream '90s nostalgia', are you even styling a maxi dress from the era?
Hair and Makeup
Styling a 90s maxi dress should include considerations for the right hair and makeup that complement the outfit.
For hair, opt for updos like low buns or high ponytails to showcase the neckline. A sleek, straight style can also give a modern twist to the vintage look.
Makeup should focus on emphasizing one feature, such as bold lips or smoky eyes, instead of an overall dramatic look. Keep in mind the color scheme and vibe of the dress when choosing shades.
Accessorize with hair clips, headbands or statement earrings to add more charm and excitement to your hairstyle and makeup.
It's essential to strike the right balance between highlighting your natural features and adding elements that elevate your look. Despite these guidelines, don't be afraid to experiment with different hairstyles and makeup styles until you find what suits you best.
Pro Tip: Use setting spray to ensure both your hairstyle and makeup last all day or night.
From sipping cocktails at rooftop bars to crashing your ex's wedding, the 90s maxi dress is perfect for any occasion (even the ones where you might need to make a dramatic exit).
Occasions and Events to Wear a Stunning 90s Maxi Dress
A 90s maxi dress is a versatile choice for any event, be it formal or casual. Its flowing silhouette and unique patterns are perfect for adding a touch of vintage charm to any outfit. Here are some stylish ways to wear this stunning piece.
Weddings: A 90s maxi dress is an excellent option for weddings, be it as a wedding guest or bride's maid. You can pair it with some strappy heels and simple accessories.
Cocktail Parties: For cocktail parties, opt for a printed maxi dress with bold colours or animal prints. Accessorize with statement jewelry and high heels to elevate the look.
Festivals: A floral 90s maxi dress is perfect for music festivals. You can complete the look by wearing comfortable sandals and bohemian-style accessories like headbands and sunglasses.
Casual Outings: For casual outings, choose a simple cotton maxi dress in neutral colours such as black, white or beige. Wear it with sneakers or flat sandals to create a relaxed yet effortless chic look.
Apart from being comfortable and elegant, the 90s maxi dress is also eco-friendly clothing due to its quality that lasts longer than modern fast fashion items.
The 90s maxi dress was first introduced in the early '90s as a piece of fashion that represented freedom and liberation from conservative dressing styles. The style quickly became popular due to its comfort level and unique designs, which have remained evergreen even today. The renewed popularity of this iconic garment is because it embodies nostalgia, femininity, and comfortability- all things women love!
Get ready to max out your credit card, because shopping for the perfect 90s maxi dress will be worth every penny.
Shopping for a Stunning 90s Maxi Dress
To nail your 90s fashion game, you crave a stunning maxi dress that adds a touch of vintage charm to your outfit. Look no further! We've got you covered in this section: 'Shopping for a Stunning 90s Maxi Dress.' With sub-sections on vintage and thrift stores, online retailers and marketplaces, and tips for finding the perfect dress, we'll guide you on your hunt for the perfect retro piece.
Vintage and Thrift Stores
Vintage and thrift stores are treasure troves for those seeking unique and stylish outfits from the past. These stores offer an eclectic mix of clothing items, ranging from vintage dresses to quirky accessories.
Vintage and thrift stores offer a wide selection of clothing items.
The prices at these stores are often much more affordable compared to retail stores.
These stores provide an opportunity for consumers to reduce their environmental impact by shopping sustainably.
Visiting a vintage or thrift store is also a fun and unique shopping experience that is sure to impress friends and family who appreciate fashion history.
With careful searching, one can find rare gems that are not available in modern-day mainstream shops.
While browsing through these charming shops, it's important to keep in mind that each item has its own story. From designer pieces with fascinating histories to old t-shirts that have seen better days, every article of clothing has something special about it.
A friend shared her experience of finding an 80s prom dress at a thrift store that was unlike anything she had worn before. The quality material and unique style made her feel confident and special when wearing it. She also appreciated the environmentally friendly aspect of purchasing second-hand clothing.
Why settle for mediocre mall fashion when you can score a killer 90s maxi dress from the comfort of your own couch?
Online Retailers and Marketplaces
When it comes to purchasing 90s maxi dresses online, there are numerous options available via digital retailers and marketplaces. These platforms allow customers to find a variety of styles from multiple brands all in one place.
Below is a list of some popular online retailers and marketplaces for purchasing 90s maxi dresses, along with their unique features and offerings:
| Retailer/Marketplace | Unique Features | Offerings |
| --- | --- | --- |
| ASOS | Affordable prices, sustainable fashion section | Wide range of dress styles |
| Nordstrom | High-end designer options, great customer service | Exclusive styles and brands |
| Etsy | Handmade and vintage items, unique finds | One-of-a-kind vintage maxi dresses |
| Revolve | Trendy styles, free returns policies and fast shipping | Maxi dresses from popular brands |
It's worth noting that each platform has its own advantages and disadvantages when shopping for the perfect 90s maxi dress. While ASOS offers affordable prices, Nordstrom provides exclusive high-end designer options. Etsy provides vintage finds while Revolve focuses on trendy styles.
According to Vogue Business, "Online retail is expected to surpass traditional brick-and-mortar sales by 2023." This means that it's becoming increasingly important to stay up-to-date with the latest digital retail trends in order to find the perfect 90s maxi dress.
Finding the perfect dress is like finding a needle in a haystack, except the haystack is made of polyester and you're allergic.
Tips for Finding the Perfect Dress
Finding a Magnificent 90s Maxi Dress
If you desire to find the perfect 90s maxi dress, stay tuned for some tips. You will need to:
Understand Your Body Shape – identify your body type and choose the right maxi dress style.
Choose Colors Carefully – Pick colors that complement your complexion.
Showcase Your Personality with Style – Select styles based on personal preferences.
Pick Fabrics that are Comfortable and Durable – choose quality over price.
Get the Correct Size – Try items on for size before buying.
Shop Around Before Selection – Take time to explore options before choosing.
Moreover, when shopping for a maxi dress from the 90s era, prioritize checking the clothing material. Make sure it is authentic vintage or sustainably made before purchasing.
Pro Tip: When buying second-hand clothing online or in-store, always check measurements provided by sellers carefully.
Because even a stunning 90s maxi dress needs a little TLC – treat it right and it'll make sure you never have to wear sweatpants again.
Caring for your Stunning 90s Maxi Dress
To care for your stunning 90s maxi dress, you need to know the right techniques for washing, ironing, and storing it. In order to keep your dress looking its best for years to come, we have solutions for washing and drying, ironing and steaming, and storing and preserving.
Washing and Drying
Avoiding Damage to Your Gorgeous 90s Maxi Outfit
To keep your stunning 90s maxi dress in prime condition, you need to be mindful of the way you wash and dry it. Follow these simple instructions to avoid damaging this beautiful outfit.
Hand-wash the dress – Start by soaking it in cold water for a few minutes before gently washing it with mild soap or detergent.
Rinse well – Rinse thoroughly with cool water until all soap residues are removed.
Avoid harsh chemicals – Do not bleach or use fabric softeners as they can damage the fabric fibers.
Air Dry – Instead of heat drying, air-dry your dress. Drape it over a hanger or lay it flat on a clean towel.
Iron on low heat – If you need to remove any wrinkles carefully iron your outfit using the lowest possible heat setting.
Store properly – When storing, fold neatly and place in a cool and dry space to avoid direct sunlight.
Don't forget, always refer to care labels or consult with a professional cleaner if you're unsure how best to handle specific fabrics.
To maintain color vibrancy, avoid direct sunlight exposure while wearing the dress, even during hanging.
Pre-treating stains with lemon juice is an excellent natural method for keeping clothes looking new without fading the colors.
Who needs a personal trainer when you have to iron a 90s maxi dress? It's a full upper body workout.
Ironing and Steaming
Ironing and steaming your exquisite 90s maxi dress is crucial for enhancing its beauty and prolonging its lifespan. Here's a quick guide to help you with that:
Prepare the iron or steamer by ensuring it's clean and filled with distilled water.
Set the iron to the correct fabric temperature or adjust the steam level on the steamer.
Iron or steam your dress gently, applying moderate pressure in small sections. Avoid leaving it on one spot for too long.
Hang your dress immediately after ironing or steaming, to prevent creases from forming.
When it comes to caring for delicate vintage dresses like this, prevention is always better than cure. Avoid exposing the dress to direct sunlight or heat as it can damage the fabric. Additionally, use a pressing cloth while ironing and avoid using starch as it can cause discoloration.
Did you know? According to fashion historian Caroline Rennolds Milbank, maxi dresses were first introduced in the 1960s but gained popularity in the 70s as a symbol of freedom and rebellion against traditional gender norms.
Preserve your 90s maxi dress like it's a celebrity sighting: put it in a fancy protective casing and avoid all exposure to sunlight.
Storing and Preserving
Maximizing the Lifespan of Your Elegant 90s Maxi Dress
To protect your stunning maxi dress, storing and preserving it properly is essential. Here are some tips to ensure that your favorite piece stays beautiful over time.
Tips for Storing and Preserving Your 90s Maxi Dress
Avoid stuffing the dress in a tight space
Store it in a dark closet or garment bag
Keep away from direct sunlight or heat sources such as radiators or heaters
Use padding to prevent any creases from forming
Consider using acid-free tissue paper to maintain its original shape
It's always better to take preventive measures. However, if you accidentally spill something on your maxi dress, resist the urge to wash it yourself. Instead, leaving it to the professionals will ensure that your garment is not damaged.
At times, keeping an eye on small details can make all the difference. For example, taking off any jewelry or accessories before trying on a dress can prevent snagging or tearing of fabric.
Don't let anything come between you and your timeless 90s maxi dress. With proper care, it will be a reliable staple in your wardrobe for years to come.
Whether you're attending an upcoming event or just trying to keep those memories alive on social media – anyone would want maximum eyes on their alluring outfits! Don't let lost value due to bad preservation techniques hold them back. Follow these simple and effective tips today!
Step back in time with confidence and style with your stunning 90s maxi dress, because vintage never goes out of fashion.
Conclusion: Rocking Your Vintage Style with a Stunning 90s Maxi Dress
Vintage style can be effortlessly achieved with a stunning 90s maxi dress. This fashion staple exudes nostalgia while remaining timeless. The versatility of this dress allows for various styling options, making it the perfect addition to any wardrobe.
Accessorizing with bold statement pieces and platforms will elevate the overall look, giving a refreshing twist to retro fashion.
For a unique touch, opt for dresses with intricate prints, embroidery, or fringe detailing that emulate the bohemian vibes of the 90s.
One fashion lover shared her story of finding an exquisite maxi dress at a thrift store for only a few dollars, proving that vintage style can be affordable and accessible.
So go ahead and rock that stunning 90s maxi dress with confidence and flair!
Frequently Asked Questions
Q: What is a 90s maxi dress?
A: A 90s maxi dress is a dress from the 1990s that is ankle-length or longer and typically features loose, flowing fabric.
Q: How should I style a 90s maxi dress?
A: You can style a 90s maxi dress with chunky sandals and a denim jacket for a casual look, or dress it up with heels and statement jewelry for a more formal occasion.
Q: Where can I find vintage 90s maxi dresses?
A: You can find vintage 90s maxi dresses at thrift stores, vintage clothing shops, and online marketplaces such as Etsy and eBay.
Q: How do I care for a vintage 90s maxi dress?
A: You should always follow the care instructions on the label of your vintage dress, but in general, you can hand wash the dress in cold water and hang it to dry.
Q: Can a 90s maxi dress be altered to fit me better?
A: Yes, a skilled tailor or seamstress can alter a 90s maxi dress to fit you better, but you should ensure they have experience working with vintage clothing before trusting them with your garment.
Q: Is it possible to wear a 90s maxi dress in the winter?
A: Yes, you can wear a 90s maxi dress in the winter by layering it with tights, boots, and a warm coat or sweater.