During the 90s, Leonardo DiCaprio's hair gained widespread popularity due to its distinct style that matched his carefree persona. His straight, blonde hair was swept to one side with a messy fringe on the forehead, which made him look young and carefree, befitting of his youth-centric movie roles. The hairstyle became iconic for its simplicity and natural appeal.
It wasn't just the strands' arrangement that made people enamored with DiCaprio's hairstyle. What captured people's attention was how it embodied a youthful nonchalance – a disregard for styling conventions yet still standing out amongst Hollywood stars. With this style, Leo created an effortless coolness that inspired teenagers at the time.
While celebrities nowadays switch hairstyles frequently to keep up with trends, Leo persisted in holding onto this signature style for years. However, despite how much fans adored his hairdo, he decided to change it when he cut it short after filming Titanic.
Leo's iconic hairstyle was part of a more significant trend in the 90s – liberation from conventional beauty standards and turning towards an abstract casualness. Young people found refuge in embracing greasy hair and flashy clothes as long as they expressed their personalities and lifestyles effectively.
There is a famous story that, while filming Romeo + Juliet (1996), Baz Luhrmann forbade anyone from cutting Leonardo DiCaprio's hair as he feared it might affect the film's continuity if DiCaprio's looks deteriorated over time. As we now know, this decision worked well for both Leo's new status as a Hollywood heartthrob and Baz Luhrmann's modern reinterpretation of Shakespeare's classic tale on the big screen.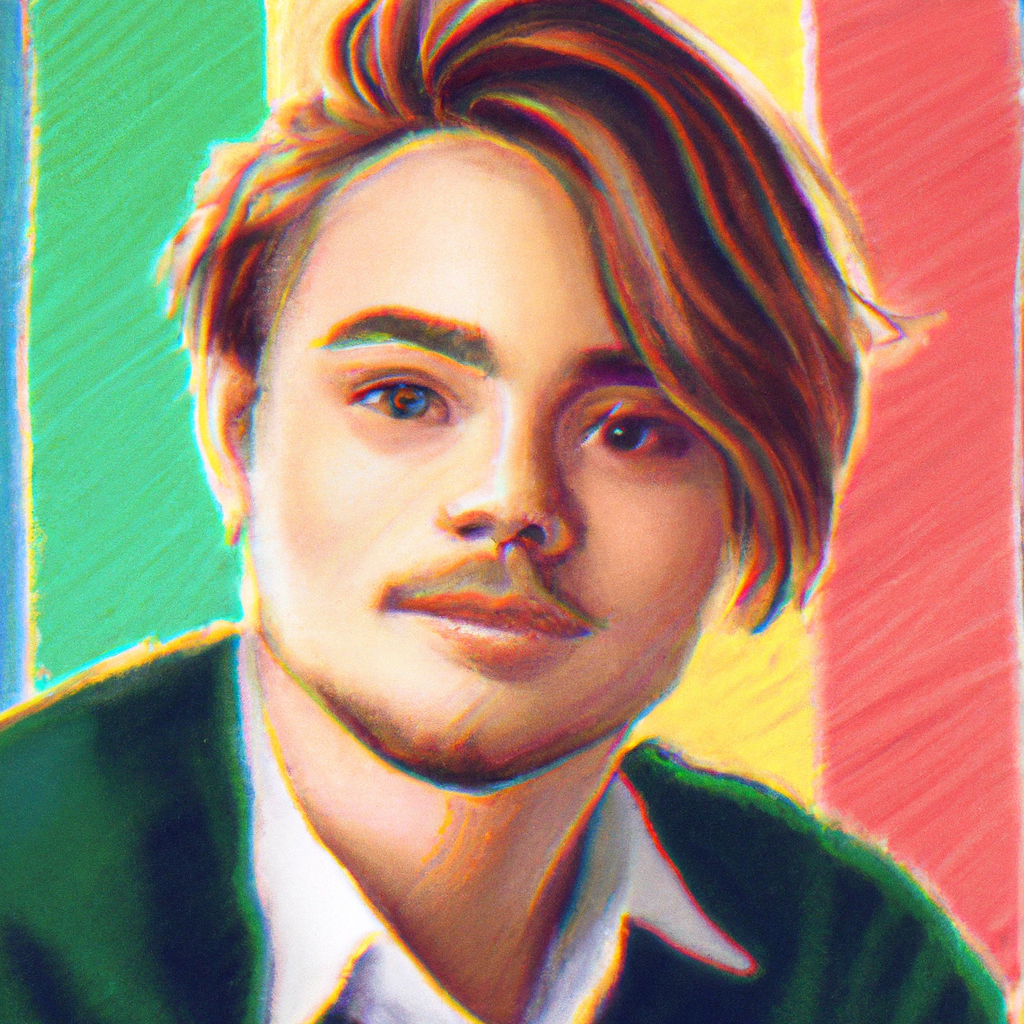 Leonardo's hair was so long and messy in the 90s, it looked like it could have its own ecosystem.
The long and messy layered cut
With his youthful charm and dashing looks, Leonardo DiCaprio made waves in the 90s with his signature hairstyles. One of his popular haircuts was a long and tousled layered cut, where his hair would cascade down his face in loose waves. The cut gives an effortless vibe and adds depth to the hairstyle, making it look more dynamic.
This haircut frames the face perfectly and emphasizes the cheekbones. It also provides versatility for different styles, allowing him to slick it back for formal events or have a casual appearance by leaving it messy. The layers make it easier to achieve movement and texture.
The haircut was often paired with highlights or dyed blonde locks, creating a sun-kissed beachy look. This made Leonardo DiCaprio an icon for many young men who sought after this trendy and relaxed hairstyle.
Pro Tip: To maintain this style, regular trimming is essential to keep split ends at bay and prevent tangles in longer hair. Leonardo DiCaprio's center-parted 90s hair was so iconic, it could have starred in its own movie.
The center-parted hairstyle
During the 90s, Leonardo DiCaprio popularized a hairstyle that featured a distinct center parting, garnering attention and praise from his fans. This hair trend involved dividing the mane through the middle, creating equal sections on both sides of the head. The style was slicked down with products that gave it a shiny finish. It was a simple and elegant look that quickly gained popularity amongst young adults.
The center-parted hairstyle is still adored by many today because of its ruggedness and versatility. With just a few tweaks here and there, anyone can pull off this classic look. Although straight hair is ideal for this hairdo, it can also work well on people with wavy or curly locks with just some gel or mousse to give it hold.
Notably, when looking at iconic hairstyles throughout history, one would be remiss not to include Leonardo DiCaprio's sleek 90s center part. Even after all these years, his hair remains as an inspiration for many contemporary styles we see today.
Another story worth mentioning is the critical role DiCaprio's iconic hairstyle played in getting him noticed by casting directors in Hollywood during his early days as an actor. His looks alone helped him secure diverse roles in movies like Titanic and Romeo + Juliet, which helped establish him as a sought-after movie star and heartthrob around the world.
Leonardo DiCaprio's slicked-back hair may have been popular in the 90s, but it also made him look like he just got out of the shower for the entire decade.
The slicked-back hairstyle
Leonardo DiCaprio's signature coiffure in the 90s was a sleek and polished hairstyle. It involved combing the hair back from the forehead, creating a luscious slicked-back look that gave him a striking appearance. The style had variations in length and volume to suit different faces. It required the use of hair products like gels, mousses and waxes to hold it in place.
The slicked-back hairstyle symbolized elegance, confidence and sophistication, which made it popular among young men at the time.
One reason why this trend became famous is its versatility. A variation of this hairstyle suits all face shapes while being easy to maintain for day-to-day activities. You can modify this classic style by experimenting with levels of shine through using different products types (matte or shiny) or playing with texture (slick or messy). Pairing slicked-back hair with a suit and tie results in an elegant look. This style exudes maturity and sophistication even among young men.
To achieve the perfect slicked-back hairstyle, start by washing your roots thoroughly. Apply styling mousse or gel to damp hair before blow-drying upwards with a few brush strokes that carry all hair backwards from forehead to nape. Dry slowly to create maximum lift before applying another layer of product if necessary; ensure you only use high-quality products that do not damage your scalp.
Leo's 90s hair may be gone, but it lives on in our hearts and in every bad haircut we've ever regretted.
Conclusion
The Era-defining Hairstyles of Leonardo Dicaprio's 90s
Leonardo DiCaprio was the epitome of the 'cool guy' in the 90s, sporting an array of hairstyles that made everyone gasp and look twice. From his floppy center-parted hair to his slicked-back comb-over, Leo proved that he could pull off any hairstyle with ease.
Leo's signature look was undoubtedly his blonde curtains haircut, which featured long, textured locks that framed his face perfectly. This iconic 90s style became a rage and was often copied by many teen boys at that time.
What makes Leo's hairstyles so unique is the fact that he always maintained his natural looks while experimenting with different styles. His carefree attitude and confidence added to his allure, making him a style icon for generations to come.
If you're looking to recreate Leo's hairstyles, there are certain things you need to keep in mind:
maintaining healthy hair is essential to pulling off these styles. Regular trims, conditioning treatments, and healthy eating habits can go a long way in making your hair look its best.
Another important thing to consider is the shape of your face – different hairstyles accentuate different features so it's crucial to choose one that flatters your face shape. Lastly, always make sure you have the right styling products on hand – things like pomades and texturizing sprays can help you achieve Leo's textured and edgy looks effortlessly.
In summary, Leonardo DiCaprio's 90s hairstyles were an inspiration for many men who sought a carefree yet stylish look. With proper maintenance and tools, you too can get those iconic locks that made waves during the era-defining decade.
Frequently Asked Questions
Q: Who inspired the popular 90s hairstyle worn by Leonardo DiCaprio?
A: The inspiration behind Leonardo DiCaprio's hairstyle in the 90s is believed to be Brad Pitt, who sported a similar look in the movie "Legends of The Fall."
Q: How can I achieve Leonardo DiCaprio's 90s hair?
A: To achieve the look, ask your stylist for a layered cut with longer strands on top that can be styled with a side part and a touch of hair gel or mousse.
Q: Is Leonardo DiCaprio's 90s hair still in style?
A: While the vibe of the 90s has made a comeback in recent years, the hairstyle itself is not as popular as it once was. However, it remains a classic look that can still be rocked today.
Q: Did Leonardo DiCaprio keep his 90s hairstyle for a long time?
A: No, Leonardo DiCaprio did not keep his 90s hairstyle for a long time. He went on to experiment with various other hairstyles and haircuts as he grew older and his career progressed.
Q: Was Leonardo DiCaprio's 90s hairstyle easy to maintain?
A: Yes, for the most part, Leonardo DiCaprio's 90s hairstyle was relatively easy to maintain. A simple wash and styling with hair gel or mousse would do the trick.
Q: Besides the hairstyle, what other fashion trends were popular in the 90s?
A: Some other popular fashion trends from the 90s include oversized clothing, platform shoes, chokers, and crop tops.
Q: What other articles should I read?
A: If you're a fan of 90s fashion and style, you'll also enjoy our article on Rocks' Iconic 90s Outfits. For more on 90s celebrities, check out our piece on Lenny Kravitz and Vanessa Paradis